When they found out that they were named the grand marshals for Town and Country Days, Bert and Judy Stanley were surprised. "We're very honored to represent the community," Bert said. "It's not something that we expected."

The Stanleys are honored to have received this "once in a lifetime" opportunity, and they plan to treat it accordingly.

For 28 years, Bert and Judy Stanley have owned and operated Corner Drug in Paynesville.

In 1975, Bert and Judy moved to Paynesville from their home state of South Dakota. They decided to come to Paynesville because there was a drug store for sale.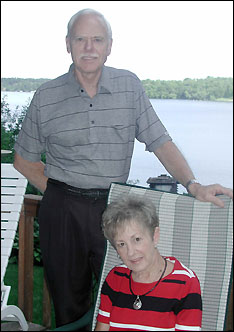 The Stanleys feel they really made a good choice in moving to Paynesville. "We really like it here," Bert said. "It's very friendly," added Judy. The Stanleys enjoy the smalltown environment.
Bert and Judy have been active members of the community since coming to Paynesville.
Bert and Judy Stanley, owners of Corner Drug, were chosen as grand marshals for Town and Country Days this year.
Bert was president of the Paynesville Area Chamber of Commerce in 1987, served on the ambulance crew, served on the city council, served on the board at the Good Samaritan Care Center, and served as manager of the Paynesville Pirates. Currently, Bert belongs to the airport commission.
Judy also served on the chamber board and served on the board for the Charity fund drive. In addition to working at Corner Drug, she worked as a substitute teacher and co-owned a china and jewelry store called LuLynnz in Paynesville. Now, she volunteers at the R.O.S.E. Center.
Together, Bert and Judy have been emcees at past Miss Paynesville pageants, received the Commodore's Award, and enjoy being active in their church, St. Paul's Lutheran in Eden Valley.
The biggest changes the couple has seen since moving to Paynesville, they said, involve industry. There is far more industry now than when they moved here, Bert said. Industrial businesses have also moved into all edges of town, the Stanleys agreed.
The types of businesses are also different, according to Bert. When he and Judy came to Paynesville, he said there were many more retail stores than there are now.
In the business, Bert said he has noticed dramatic changes. For example, when he started at the pharmacy everything was done by hand and now everything is done by computer, he said. And no one pays for their own prescriptions anymore, he added; everything is sent to insurance companies.
In their spare time the Stanleys, who live on Lake Koronis, enjoy motorcycling, going to baseball games, meeting with friends, spending time with their family, and being involved in their church.
As to why the Stanleys think the Chamber chose them to serve as grand marshals, Bert joked, "I suppose it's because we're getting close to 100."
Though Bert doesn't have any definite plans to retire, the Stanleys plan to stay in Paynesville after retirement.
They would like to thank the community of Paynesville for supporting them and helping them through tough times. They, too, hope that they have helped the community.
In the Town and Country Days parade tonight, Bert and Judy will be driven by their son, Chris, also a past president of the Chamber.
---
Contact the author at editor@paynesvillepress.com • Return to News Menu
Home | Marketplace | Community
---