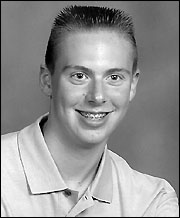 (Editor's Note: Eighth grader Alexander Svejkovsky, the son of Mark and Jackie Svejkovsky, placed second in the sixth annual League of Minnesota Human Rights essay contest, receiving a prize of $350. Svejkovsky is the fourth Paynesville student to place at state, joining Erica Geurts (second in 2003), Tanya Whitcomb (third in 2002), and Adam Ingalsbe (third in 2000).
This spring Alexander placed first among his classmates at Paynesville Area Middle School in the local competition sponsored by the Paynesville Human Rights Commission with Natasha Fangmeier placing second, and Natalie Leadam placing third.)
What comes to mind when you hear the words 'quality education'?
Do you picture students reaching their full potential, getting help where they need it, and never being treated unfairly?
Although schools continue to strive for this idea, it was not too long ago when an equal, quality education was not available for all children.
Prior to 1954, white and black children went to separate schools. Not because they wanted to, but because they were required to.
The leaders of America thought that this arrangement was fair, but it was not. Black children had to walk to school while white children rode a bus to school. Black children had to use worn out books while white children had new books. Black children had to make due with few supplies while white children had virtually unlimited supplies.
It was clear to see black children and white children were not being educated on a level playing field.
This inequality led black families to take action, to do something about this unfair treatment so that their children had the same educational opportunities as children of white families. Initially, they tried talking to the principals of the white schools, but they refused to listen to their concerns, let alone do anything about it.
Finally, enough was enough and with no where left to turn, they took their case to the Supreme Court. There the Supreme Court heard the case of Brown vs. Board of Education, Topeka, and ruled that segregation in public schools would no longer be allowed.
The court's decision stated that separated facilities are not equal because separation is unequal and causes a sense of inferiority that might affect a child's motivation to learn.
This ruling was very rewarding to the black students and their families. Black students now receive an education that has provided more high school graduates, better college enrollments, and completion of college degrees for better careers.
But it did not stop segregation from happening. According to the website, www.georgetown.edu, segregation has not decreased significantly since 1970. In fact it has gotten worse in some areas.
Race, hatred, and violence have not yet been completely erased since the Brown decision. Segregation still continues and can be seen in many schools and neighborhoods, due to the results of prejudice and stereotyping within communities.
Perhaps desegregation is not the only key; maybe there are more important factors we should focus on if we want to provide an education that is both fair and equal for all students. Possibly some of the things taught and done in schools have hurt us more than it has helped.
Segregation doesn't have to continue and must not continue. There are many things we as individuals can do to put segregation to an end.
We can teach children at a young age about the different cultures and traditions of everyone in the world.
Get to know people of different races better by asking them questions and learning more about their culture, traditions, religion and history. In short, get to know your neighbors.
Learn more about American history, not because you have to, but because you will want to.
This may lead to understanding the people around us and help create lasting friendships.
Segregation must not continue as it only leads to negativity and bad behavior towards others. Be the one that helps to put an end to segregation; don't be the one who fuels it.
Segregation ruins lives; be a hero to yourself and change your corner of the world. When an act of segregation happens, you will now ask yourself, "Am I going to let this continue or am I going to take a stand for what is right and prevent it from happening in the future?"
---
Contact the author at editor@paynesvillepress.com • Return to News Menu
Home | Marketplace | Community
---