(Editor's Note: On Memorial Day this year, surviving World War II veterans - 60 years after securing victory over Nazi Germany and the Japanese Empire - gathered for a group picture at the Paynesville American Legion Post #271 and at the Othmar Braun American Legion Post #612 in Lake Henry.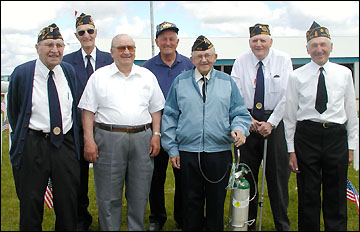 The Press editorial staff, over the past few weeks, has gathered details about their wartime service and has compiled this record of the men in the photographs. Last week, we published the WWII veterans from Paynesville. This week, we present the picture and profiles from the Lake Henry post.)
World War II veterans belonging to the Othmar Braun American Legion in Lake Henry gathered for a picture on Memorial Day. They are: (front) Jon Heinen, Elmer Zirbes, Cyril Winters, and Marvin Lensing; (back) Hugo Kuhl, John Ohmann, and Urban Spanier.
Jon Heinen
Jon Heinen spent one year in the army in World War II, traveling with a group of about 60 Melrose area men to North Africa. His unit protected airports in Casablanca, and he was a gun mechanic assigned to fixing problems at the area's field stations.
Heinen, who farmed near Spring Hill until retiring to Melrose, said that he was told one morning: "Pack your bags. You're going home."
"It was a surprise," he remembered, "but a happy surprise," and he left Casablanca that same day.
Elmer Zirbes
Elmer Zirbes, who now lives in St. Cloud, is still a member of the American Legion in Lake Henry, where he grew up. After being drafted in 1945, he worked in the boiler room on a navy transport ship moving troops around the Pacific. A big danger was avoiding the floating mines that were common around the harbors and big cities.
Only six weeks after the atomic bomb was dropped on Hiroshima, Zirbes walked on that site. Everything was "just blown apart" for miles, he said.
Cyril Winters
Cyril Winters was drafted into the navy in 1944. He ran heavy equipment and served in Guam. There was a lot of fighting in his first month there, he said. He was driving a truck and getting shot at most of the time. He served for two years in the navy. After he got out, he raised and bred cattle for many years and moved to Paynesville in 1951.
Marvin Lensing
The biggest thrill Marvin Lensing got while in a medical unit of the Army Air Corp was telling a full colonel not to interfere with his job of assigning personnel. Lensing reminded the officer that though he himself had a lower ranking, the officer was his patient and had no authority in the situation.
Lensing, who is now retired in Belgrade, grew up on a farm in Spring Hill Township. When drafted into the army in 1940, he spent over four years at an air base in Arizona, never leaving the country, though he volunteered twice to go to Japan. He lost his wife when the youngest of his seven children was only six months old and raised the family on the farm with the help of neighbors.
Hugo Kuhl
When Hugo Kuhl left St. Martin and joined the navy in May 1946, the war was over, but there was a lot of cleaning up to do. He spent two years running the main diesel engines on a minesweeper in the South Pacific.
The ship found floating mines and detonated them with gunfire. Though the war was over, this was dangerous work, Kuhl said. He recalled a time when 21 mines surrounded his ship, and had to be avoided, and another time when he saw the ship miss a mine by only five or ten feet.
Jack Ohmann
Enlisted in the navy just after he turned 18, Jack Ohmann was a gunner's mate aboard a destroyer. Ohmann grew up in Greenwald, living there until his time of service, and then spent over three and half years in the South Pacific.
He recalled a typhoon that literally stopped the war for a short time, which he said was "a lot scarier than the war itself." Along with his crewmates, he attends the ship's annual reunions and said that his comrades were great men.
Urban Spanier
Urban Spanier spent two and a half years in the navy after being drafted, working as part of a three-man crew that carried either a Jeep or up to 36 Marines to battle zones in the North Atlantic and South Pacific.
His ship faced enemy fire often and lost its sister ship in battle. "I don't know if there was a best part" of the war, Spanier said, though the traveling was fun for this lifetime resident of Spring Hill.
Sylvester Nietfeld
Farming has been part of Sylvester Nietfeld's life since he grew up on a farm north of Spring Hill. He was working on a farm near Lake Henry when he enlisted in the navy in the fall of 1944.
As an engineer and electrician on a destroyer, Nietfeld worked with the onboard motors and lighting, serving for two years. He is now settled down south of Sauk Centre on a farm he took over "on a trial basis" almost 57 years ago, he said.
---
Contact the author at editor@paynesvillepress.com • Return to News Menu
Home | Marketplace | Community
---