Jerry and Jane Burr didn't feel worthy of the award when they found out recently that they had been named grand marshals for Town and Country Days. "We were very surprised when we found out. It really is an honor," Jane said.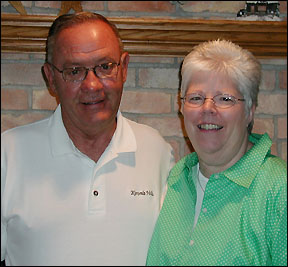 Jerry and Jane have been members of the Paynesville community for many years. Jerry was born and raised in Paynesville, and Jane moved here in 1955 because her father owned Ben Franklin.
Jane and Jerry Burr were named 2005 Town and Country Days grand marshals by the Paynesville Area Chamber of Commerce.
From 1965 to 1998, Jerry and Jane owned Jerry's Jack and Jill (now called Joel's Family Foods).
In the 33 years that they owned the business, they said that they saw many changes. "The biggest change," Jerry said, "is that everything is done by computers now. Checkouts, ordering, everything is done by computers."
In January 1998, they sold the business to their son, Joel. "We felt that it was time to retire," Jane said. "Now we can do what we want to do instead of what we have to do," Jerry added.
There are many changes that the couple has seen in the Paynesville community, also. "The city is spreading out and getting more diversified," Jerry said. Some of the changes that Jerry and Jane noted in the community were the expansion of the hospital, the making of the industrial loop, the new airport, and the loss of retail stores. The loss of all the stores that Jerry remembers as a child is "just sad," he said.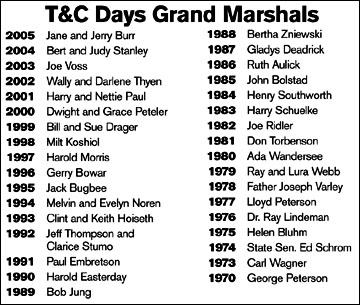 Throughout the years, the couple has been active in the community. Jerry has been a member of the American Legion, the firing squad, the Lions Club, the Masonic Lodge, the VFW, the Sportsman's Club, has served on the Chamber board, and has been an active member of Ducks Unlimited.
Jane spent a lot of years taking care of the kids and working, she said. She was also involved with the Chamber of Commerce, Eastern Star, and the hospital auxiliary.
In their free time, Jerry and Jane like to travel, spend time with their three grandchildren, and go to their grandson's go-kart races. Jerry also enjoys hunting and fishing.
Jerry and Jane enjoy Paynesville and don't plan to leave "except in a hearse," Jerry joked.
"We love Paynesville," Jerry said. "Paynesville has friendly people, a good health care system, good school system, and plenty of opportunity for hunting and fishing."
Jerry and Jane enjoy spending time on Lake Koronis, where they live, and being close to their two kids: Joel, who lives in Paynesville with his family, and Jodi, who is a teacher in Willmar.
---
Contact the author at paypress@lkdllink.net • Return to News Menu
Home | Marketplace | Community
---