Upon hearing that he and his wife were chosen as grand marshals for this year's Town and Country Days parade, Bill Ryan felt humbled. His wife Pat expressed her response in one word as well: surprised.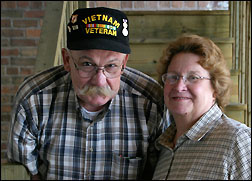 The Ryans have been part of the Paynesville community since 1978, when they moved from Dessex, Ill. They came because of jobs and fishing, but they've stayed because of the community.
Bill and Pat Ryan of Paynesville have been chosen as the grand marshals for this year's Town and Country Days parade, which will be held on Wednesday, June 21, starting at 7 p.m.
"People in this community care for each other," said Bill, who delights in that fact. Pat added that she could not ask for a nicer place.
In the 28 years they have been here, the Ryans have been very involved in the community they love. Bill taught in the agriculture department in Paynesville Area High School for what he calls "a fantastic 26 years."
Pat also teaches, and she has subbed nearly full-time for many years in area school districts, including Paynesville, and she teaches GED classes, a job she has held for over 15 years. She has worked at an alternative school in Litchfield, in adult education in St. Cloud, and at a St. Cloud center for the unemployed.
Their involvement in the schools put them in a great position to volunteer at graduation ceremonies, school dances, and prom, which Bill advised for about a decade.
The Ryans - who raised their three children in Paynesville - have been active in the community in many other ways. Pat taught Sunday School classes at St. Louis Catholic Church for 20 years and was a family aide group leader for many years, as well.
Bill, as an avid outdoorsman, was a charter member of the local chapter of the Minnesota Deer Hunter's Association, and was the regional director for a time as well as president and vice president of the state organization.
His enjoyment of hunting led him to teach youth gun safety classes for six years, and he did some gun safety workshops with the Boy Scouts. Pat worked with the Girl Scouts, taking them on nature hikes to the top of an island on Lake Koronis.
Bill also served on the Roseville Township Board of Supervisors for 12 years.
Today, the Ryans volunteer at the Koronis Manor and the R.O.S.E. Center weekly. Bill is still involved with the local chapter of the Minnesota Deer Hunter's Association, and he also is spending time in the Wheeling Sportsman program through the National Wild Turkey Federation, which he said provides "outdoor adventures for the handicapped."
Bill volunteers with veteran's organizations, as well, including the Vietnam Veterans of America, the Disabled American Veterans, and the local American Legion. He ran the Boys Stater program for the Legion for 20 years and has spoken at many veterans and memorial day programs for Paynesville schools and at schools in nearby towns.
Teaching gave Bill "so many fantastic memories" that he cannot choose a highlight, except maybe having the chance to be a teacher and, at the same time, a friend to students. Pat is still creating memories as a teacher.
The delight they have both taken in teaching is ironic, because neither wanted to teach, at first. They met when Pat was a senior in high school, and Bill came to the restaurant where she waitressed. Pat went on to Illinois State University, where she said she decided to stay in the sciences after a bad English professor discouraged her from that subject. Then she wanted to do research, but scholarships were more available for teachers, especially since she was female, because Illinois "needed teachers desperately" at the time, she said.
Bill went into the service after high school, in 1965, and he and Pat were engaged when he was sent to Vietnam. While his detachment was relocating, the armored personnel carrier he was riding on hit a landmine. The force of the explosion threw him 50 feet in the air, and the force of the impact when he came down broke his back.
During the year he spent in the hospital after returning to the states, Pat made the 120-mile trip to see him every weekend. She missed only one weekend the entire year, and the only reason she did was to be the maid of honor in a wedding.
After he was released from the hospital, Bill found that it was extremely difficult to get a job with a broken back. However, education did not have the same barriers that many other fields did, so he decided to go to Illinois State University and teach, as well.
When he graduated and was looking for a job - Pat was teaching junior high science and math in Illinois - the Ryans wanted to "get closer to the good fishing," said Pat, so they started looking in the Paynesville area. When Don Torbenson, the superintendent of Paynesville Area Schools at the time, offered Bill a job, they moved here.
While they taught, the Ryans raised their family here, as well. Josh, who lives in Raleigh, N.C., found a job teaching for a few years and is now switching to a different career. Sara is a senior apparel design major at the University of Wisconsin, Stout, and Adam is working in Litchfield and going to Ridgewater College for business.
Continuing complications from his military injury caused Bill to have a third back surgery in 1999. Then, starting in 2004, he received 100 percent disability from the Veteran's Administration. However, he could not have other income, and that meant that he needed to stop teaching and retire from the Roseville Township board.
Pat does not plan to stop subbing anytime soon, and the couple will keep fishing, especially on Long Lake, their favorite in the area. Bill, who is enjoying retirement "immensely," does conservation projects on their small farm, hunts turkeys, and follows up on the "to-do list at home." Now that he is retired, he has no excuses when jobs are not finished, he laughed.
The couple, who had no connection to Minnesota before moving here nearly three decades ago, feel at home here. As Bill said, "home is where the heart is, and my heart is here."
---
Contact the author at editor@paynesvillepress.com • Return to News Menu
Home | Marketplace | Community
---