The children's summer theater program - through Community Education - acted out two mixed-up fairy tales on Thursday and Friday. "Jack and the Beanstalk" and "After Ever Happily" were performed both nights in the auditorium.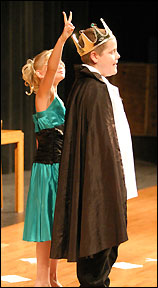 "Jack and the Beanstalk" used the traditional characters from that story but added twists to their personalities and to the plot.
In "After Ever Happily," Cinderella (Avery Davidson) flirts with her Frog Prince (Kellen Anderson). Community Education's summer theater presented two plays on Thursday and Friday nights in the auditorium.
The second short play drew from many fairy tales as it told the tale of a girl who mixed and combined them by opening an old storybook. The pages of the book were jumbled, and chaos ensued. Cinderella kissed the frog prince; the evil queen from Snow White fell in love with Rumpelstiltskin; Hansel and Gretel ate aluminum siding off a house; and Prince Charming ditched Snow White for Sleeping Beauty.
Cast of Characters
Jack and the Beanstalk
Narrators: Ivy and Joey Nelson
Prince: Joey Nelson
Mom: Kari Hoeft
50 Cents/Goose: Jacquelyn Hoeft
Funny Little Man: Kellen Andersen
Old Woman/Fairy Godmother: Mackenzie Haines
Cinderella: Kylie Bergman
Giant: Sam Haines
Jack: Matthew Anderson
Cow: Katelyn Hoeft
Robber: Allicyn Nelson
Inhabitant/Mr. Manch: Donald Neu
After Ever Happily
Christine: Teirrah Syvertson
Cinderella: Avery Davidson
Snow White: McKenna Evans
Sleeping Beauty: Katelyn Dingmann
Miller's Daughter: Lauren Spaeth
Gretel: Alayna Buggs
Queen: Sydney Riley
Mom: Taylor Loesch
Frog Prince: Kellen Andersen
Prince Charming: Donald Neu
Prince: Matthew Anderson
Hansel: Larry Carlson
Rumpelstiltskin: Taylor Buchta
Poor Woodcutter: Randi Lehmkuhl
Directors: Colleen Pelton and Sue Teicher
---
Contact the author at editor@paynesvillepress.com • Return to News Menu
Home | Marketplace | Community
---