Petelers chosen as grand marshals
This article submitted by Erin Aagesen on 6/21/00.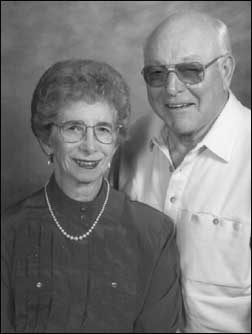 Dwight and Grace Peteler were chosen as parade grand marshals for this year's Town and Country Days Parade. The Paynesville Chamber of Commerce selected them for the honor.

Said Dwight, "We were extremely surprised and pleased. There are a lot of people that are very active." "We feel very honored to have been asked to do that," said Grace.

The Petelers were both born and raised in Minnetonka. The couple married 52 years ago.

In 1964, Dwight bought a part of Paynesville Culligan. Two of his partners ran the business while he remained in Minnetonka. In 1971, he moved to Paynesville and took over the business. A year later, his family moved to Paynesville as well.

Since that time, Dwight has been active in community matters. When he first moved here, he served a three-year term on the city council. He has also been a member of the Chamber of Commerce, serving as president for one year. He has been a member of the Paynesville Lions for the past twelve years, and took a position as president for one year. In addition, he is a member of the American Legion.

Through the years, Dwight has volunteered at the area center, the hospital, and at St. Louis Catholic Church. He retired from Culligan in 1997. Grace worked in the Culligan office as well as raising a family and doing her share of volunteer work. She has volunteered at church and was the first woman appointed to the hospital board in 1981.

Still a member of the hospital board representing the Paynesville Township, Grace has been involved during some major changes: the remodeling of the hospital, and the building of 700 Stearns Place and the new clinic. She has served as the board chair.

Grace is also currently a member of the American Legion Auxiliary. "We have enjoyed living in Paynesville," said Dwight. "We have enjoyed the people."

"Through the years," added Grace, "you don't think about what you do. You just do it. You do it because you feel somebody needs help." As grand marshals, the Petelers will judge floats and ride in the parade, which is Wednesday night at 7 p.m.
---