Marching band named grand champions twice
This article submitted by Erin Aagesen on 6/21/00.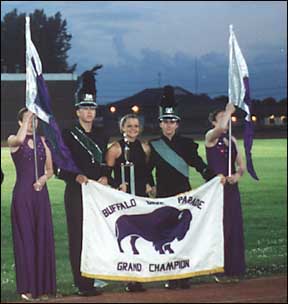 The Paynesville Area Marching Band began its season with a bang, winning three class titles and two grand championships in three parades last week.

The eighty-five member band competed with the new program, set to the music "Night On Bald Mountain," on Wednesday, June 14 at the Pioneer Land Band Festival in Benson. This parade featured sixteen high school bands, performing in three class categories.

Paynesville was awarded a hard-earned victory in Class A competition. Three years ago, in its first year of competition, the band placed third in Class A at the same parade. Last year, they placed second.

The band placed fifth overall, behind AAA schools Mankato Area and Park Center, and AA schools Waconia and Litchfield.

The competition was broadcast on Pioneer Public Television on Sunday, June 18.


Class A Results at Benson
1. Paynesville- 69.5
2. Milaca- 67.3
3. Yellow Medicine East- 56.0
4. Kerkhoven-Murdock-Sunburg- 53.5
5. Montevideo- 46.2

Buffalo
On Saturday, June 17, the band returned to the Buffalo Days parade. There, the Paynesville students defended their Grand Champion title, beating schools from every class category. The band will get to display a traveling flag indicating their championship, and will automatically be invited to participate in next year's parade.

The band won awards for best drumline and best color guard as well.

Eight schools competed in the parade. Exact scores are unavailable.

Albert Lea
The next day, Sunday, June 18, the marching band participated in the first annual Albert Lea Festival of Bands.

Ten schools competed in the parade, including two AAAA schools and three AAA schools. For this parade, Paynesville competed in Class AA.

The nearly eight-hour total bus ride paid off when the band took home a Grand Championship, a Class AA championship, and an award for best colorguard. Trophies were awarded for each of the categories.

Class AA Results at Albert Lea
1. Paynesville- 79.7
2. Zumbrota-Mazeppa- 57.8
3. Maple River- 55.6

Spat Camp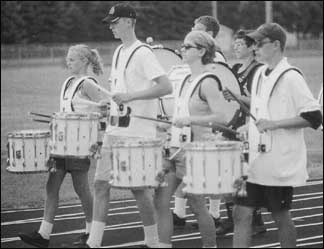 To prepare for the marching band season, band members met for a three- day long band camp. From 8 a.m. until 8 p.m. from Monday, June 12, until Wednesday, June 14, they practiced rolling their toes, playing their cadence, and tossing flags. Despite rain and cool weather, much was accomplished.
The drumline marching at spat camp included Morgan Martinson, Nathan Martinson, Bridget Mueller and Scott Thompson.
The band proper was led by instructors Bryan Mara, Ken Vork, and drum major Troy Schmidt. The drumline was led by Jeremy White, Jeremy Schriefels, and drumline captain Bridget Mueller. Allen Murphy and color guard captain Krysta Larson led the color guard. Maria Wegner instructed the honor guard.
The day usually began with the entire group stretching and doing warm-up exercises. Following that, the separate groups would break apart and work on their individual parts.
The band proper spent the morning working on the musical aspects of marching, while the drumline and color guard worked on their routines.
After lunch, the group gathered again to work on marching basics, such as proper posture and marching technique. Next, each group worked on the actual marching program.
In the evening, full band rehearsal was held. The band proper, drumline, color guard, and honor guard all practiced the program in its entirety.
Though tiring, the camp was an essential part what has already proven to be a successful season.
The band will continue with one more week of competition. Tonight, they will perform in the Town & Country Days Parade in Paynesville. On Thursday, they will be marching in Milaca. Saturday will be a parade in Red Wing.
On Sunday, the big marching band festival will be held in Alexandria, where the marching bulldogs will try to defend their Class A title.
A trip to Chicago is planned for the following week. Afterwards, the final parade of the season will take place in St. Joseph on July 4.
---