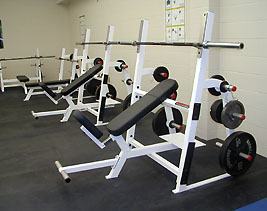 The new fitness center at the Paynesville Area High School opened its doors to the public on Tuesday.

The 2,825-square-feet fitness center is a dream come true for coaches and physical education teachers at the school and for many area residents. The new facility will enable athletes to better conduct weight training, physcial education classes to teach weight training and cardiovascular fitness and meet graduation standards in the Profile of Learning, and the community members to stay or get in shape.

The fitness center has more than 70 pieces of equipment, both cardiovascular equipment like treadmills, stair climbers, and exercise bikes as well as free weights and strength machines for weight training.

"It's going to be nice," said Jonnie Schefers, a senior-to-be, of the new facility. He used to lift weights in the small "closet" room at school three to four times a week for the past two years. He already has purchased a membership in the fitness center and has started planning his new routine there…from lifting weights to using the cardiovascular equipment.

Sports
Like it or not, weight training is increasingly used for a competitive advantage in high school sports. Weight training can improve their strength, prevent injuries, and improve quickness, said football coach Kyle Nehowig, who has pushed weight lifting for his players for several years. "The players will have more muscle to move their bodies on the field," he said.

The old weight room, which had six pieces of equipment, placed Paynesville athletes at a competitive disadvantage to their out-of-town competitors because the equipment was outdated and the space was cramped.

Previously, the school had an old Universal in the basement and a small former storage room – on the main floor, totaling about 600 sq. ft. for weight training.

Only five people could use the room at a time, not nearly enough for a physical education class, even if that space would have been together. The "closet" was condemned by the fire marshal as a fire hazard. It will most likely be returned to a storage room, while the space in the basement could be used to expand the wrestling practice area.

Nehowig is planning to have his team in the fitness center lifting weights three times a week as part of practice after school. He also encourages players to use the facility this summer in preparation for the upcoming season.

"Lifting weights will help me get bigger and stronger for football," Schefers said. "The cardio room with its steppers will help prepare for football, basketball, and track."

He would like to see basketball post players use the facility to gain strength and endurance. "Others players won't be able to push us around on the court as fast," he explained.

"The fitness center will be great for those of us in sports," agreed Susie Swyter, a junior next year who competes in basketball and softball. "Plus, it will be an asset to the community."

Community
Werner Kraemer, a retired farmer, also is anxiously awaiting the opening of the fitness center. Kraemer was one of the first people to sign up for membership.

Kraemer started lifting weights and using cardiovascular equipment several years ago following an accident. He has used a facility near St. Cloud as well as the wellness center at the Paynesville Area Health Care System.

"I felt great after a workout," Kraemer said. "I used every muscle." His routine included using a tread mill and lifting a few weights.

"Everybody needs to work out and I need to keep busy," Kraemer added.

Community Education has individual and family memberships for the fitness center. It also has hours designed for public use of the facility.

The school district has hired five people on a part-time basis to oversee the center. They will register users and maintain a safe environment. Members will have a number and will check in on computer.

Students using the center with a class or a team will not need to be a member. But if they use the center individually out of season, they will be required to have a membership or pay a daily fee.

Employees at the center will know about the machines, but will not be personal trainers. Community education will be offering classes on how to set up training programs and how to utilize each piece of equipment on Sundays. For more information, call the community education office at 320-243-7570.
---
Contact the author at paypress@lkdllink.net • Return to News Menu
Home | Marketplace | Community
---