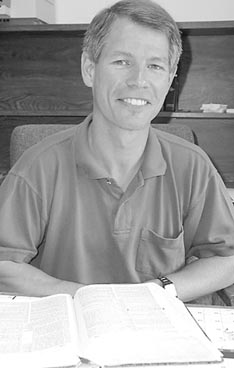 It took Joe Williquette nine months of Bible study to persuade him to convert to Christianity as a teen. It took 20 years as a Christian before he took that calling a step further and became a minister.

"Quite honestly, it's what I had wanted to do my entire life, but I was afraid to do it," explained Williquette, the new family pastor at the Paynesville Evangelical Free Church.

He spent ten years in the Air Force repairing radar equipment, and then worked as a distribution manager at a daily newspaper in Green Bay and also managed a computer company.

He felt the call of the ministry all the while, but was afraid to answer it. Instead he kept waiting for another promotion, another raise to make him feel like he was in the right career.

Williquette finally decided to abandon his corporate career after a 40-minute argument with God while driving his car. His wife, Pam Joy, was not surprised when he told her that he wanted to become a pastor. "She'd seen it coming for years," he said of his wife's response.

The Williquettes had been active in the church for 20 years, joining a congregation wherever he was stationed. For over two years, he served as a pastor in a small c

ongregation north of Green Bay. Williquette felt God's calling to the pastoral position in Paynesville. He found out about it through an online bulletin board. Three such bulletin boards to be exact. He had used these bulletin boards to look for positions two years earlier and wasn't looking for a new congregation, just cleaning the bookmarks on his computer.

He spotted an ad for the Paynes-ville Evangelical Free Church on the first page, then the second, and then the third. "Then you do one of those great leaps of faith," he explained. "Lord, are you trying to tell me something?"

Williquette started at the church at the beginning of June. He will be responsible for youth and family ministry, including Sunday school, vacation Bible school, Bible studies, and the youth group.

Williquette says he's a product of a dysfunctional family and had to learn to communicate his love with his wife. He will use those experiences in teaching family classes and marriage-building Bible studies. He wants to focus on training others to teach and lead.

He also will be preaching and helping in Sunday worship as needed.

"I finally feel like a fish in water," he said of the ministry and his new position. "I'm where I'm supposed to be."

Williquette and his wife, who also goes by P.J., have two sons: Joshua, 15, and Kristopher, 13.
---
Contact the author at paypress@lkdllink.net • Return to News Menu
Home | Marketplace | Community
---