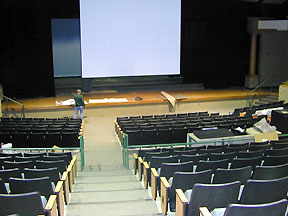 Music lovers and appreciators of theater should enjoy better musical and drama performances in the new auditorium, thanks to better rehearsal opportunities, easier set-up, and having a space specifically designed for the fine arts.

The 499-seat auditorium, which features 17 rows of tiered seating, is designed for concerts and plays, a vast improvement over the floor of the gymnasium or the small stage at the elementary school.

"The gym doesn't have very good acoustics," said David Jones, a senior-to-be who plays drums in the concert and jazz bands. "It's pretty echoey in there. Plus the gymnasium isn't very comfortable after 20 minutes. The new auditorium will sound a lot better. Plus it'll be more comfortable."

"It'll make us sound a lot better," he predicted, "more professional."

"The gym doesn't have very good acoustics, and the elementary stage is really, really small," added Sami Tierney, a sophomore next fall who participates in drama, band, and choir. "It'll be nice to have a stage that we can get full usage of."

The new stage will have 2,750 square feet behind the curtains. The entire addition - the fitness center, the auditorium, the lobby, and the miscellaneous rooms - totals 21,375 sq. ft. The auditorium house - the seating portion - has 5,250 sq. ft.

And the community will be able to use the auditorium, not just as audience members, but through community plays, concerts, etc. "It's always been a dream that we'd have something like this," said Bungum. "Not just for the students, but for the whole community."

"Now we'll have a place to bring in visiting artists or artists-in-residence," she added. "It'd be fun to have some sort of concert series come here."

Practice makes perfect
The comfortable seating, better sight lines, acoustics, and lighting may be noticed at first glance by audience members in the new auditorium, but the best value of the new facility - specifically designed for the fine arts - will be ahead of the performance, when they get chances to practice in the facility.

"It's going to be so nice to have that space that's built for performances," said choir director Cheryl Bungum. "It'll be nice also to have rehearsal in there a week ahead of time."

Previously, concerts were held in the gym, which conflicted with physical education classes and athletic performances there. In order to minimize the conflict, the music or drama groups waited until the last minute to take over the gym and set up their equipment.

Having a chance to practice in the gym used to be an afterthought to getting things set up for the performance. "We'll be able to practice more often because it doesn't interfere with the gym," said Susie Swyter, a junior-to-be who is involved in choir and drama. "And we'll be able to set up sooner."

Having a week to practice in the space will give musicians and actors a chance to adjust to the sights, sounds, and space of the stage in the auditorium. And this practice will be able to be done without depriving the physical education or sports department of their facilities.

"When you are playing music with other people, all of it is listening. All of it," said middle school band director Ken Vork. "If it sounds different (than rehearsal), it's like starting over."

"We will not have to take away a classroom to get the students access to perform in these acoustics," he added.

Vork thinks the improved acoustics in the auditorium are subtle, and it will take listeners - like performers - time to fully hear the improvements. "The most dramatic difference will be for the performer because they'll be more comfortable," Vork explained. "There will be a difference in sound, but it will be more apparent over time."

Even the speech team can use the auditorium to practice, pointed out Tierney. "It's kind of unfair because all the other teams have facilities where they can practice in front of an audience," she said.

Setting up
A separate, dedicated space for drama and music will also make setting up for concerts and plays much easier. Currently, band and choir members typically have to set up overnight, while cast members for plays might get a couple days.

The worst scenario unfortunately was all too common in the frigid Minnesota winters. Ensemble members would set up for a concert only to have school cancelled due to bad weather the next day, forcing them to reschedule the concert, strike their set, and redo the setup a week or so later.

Consider the sound and lighting, which had to be set up from scratch for each performance. "A lot of times," said Bungum, "that would be at the last minute because we wouldn't want to take the gym space until absolutely necessary."

"In the past, we've had to wait to get the gym, and we've worked until people came in," added Jesse Neu, a recent PAHS graduate who, as a member of the technology club, has done sound and lighting at various productions for four years. "We wouldn't have time to test the microphones and test if everything was working."

"Setting up the sound and lights takes forever in the gym," continued Neu. "One time it took us 24 hours. With the new auditorium, that's down to nothing, so it's less time consuming."

What setting up in advance will allow productions to do is spend more time practicing under live conditions and then fine tuning things. Bungum, for instance, hopes to use a spotlight more frequently on soloists during choir concerts, something not done currently.

What is done might be a first draft, or at best second or third draft. Concerts and plays have precious little practice with the actual sound and light. "It's really impromptu then," explained Neu.

"You make it up as you go along because you have no experience with what they want."

Drama presentations
"It's clearer every time I do (direct a play) how much better it will be (in the new auditorium)," said Ken Vork, who directs high school and middle school plays. A burden in the production is finding places to practice - not on stage - and then building a set and erecting it in the last week.

For the recently produced "The Foreigner," the set was built three weeks in advance, but had to be moved onto stage in half an hour, said Vork.

This challenges the cast because they have a very limited time to practice their stage movements on stage. Practicing movements on the actual stage would be much better than imagining what the stage would look like while practicing in the high school cafeteria.

Practicing on stage and the new sound system should also insure a clearer dialogue to the audience. "The thing people most often complain about with a play in the gym is not being able to understand the speaker because of the reverberations," said Vork. Better acoustics and the opportunity to put microphones on individual actors should improve this.

The auditorium will also provide a place for more frequent music and drama performances. If scheduling allows, concerts or plays could be given more than once. "After working so hard on something, it'd be nice to do it more than once," said Bungum.

The high school drama department tried this last December, when they presented "Scrooge" over two weekends on the elementary stage. This was only possible with a sacrifice by the phy. ed. department of a classroom for a week (as the stage is used some phy. ed. classes).

"Kids invest two months of their time, nearly every night, plus time to memorize their lines, then we put it on for two nights because someone needs the gym," Vork added.

Sports spend a few weeks practicing and then have a series of competitions, but currently plays get only a few drafts before their production run is finished. "It was nice that we knew what we had done wrong in the previous performances and we could fix that for the latter performances," said Tierney of the two-weekend performance of "Scrooge."

Multiple performances offer more chances for the public to attend plays, and give time for word-of-mouth about the play to spread through the community, Vork said. "Once you get to the point of production, it should be fun," he added.

Backstage
Audience members won't be able to see another benefit of the new auditorium to the drama department. A 1,280 sq. ft. scene shop, costume storage, and dressing room are located backstage.

Right now, since the drama department has no space of its own, costumes and sets can't be stored, meaning plays have to start from scratch each time. And each time they know that the set they're creating won't be saved. "It's sort of a slap in the face when you've worked so many hours on something and it comes down in a matter of minutes," Tierney said of the postproduction destruction of play sets. "There's plenty of room in the auditorium to store sets, so we can reuse them and fix them up," said Swyter.

Over time, saved sets and a good costume wardrobe can now be built, according to Vork. This will help the drama department focus on this important aspect of production.

"People think they're seeing a good production if they see good sets and settings," explained Vork. "Why is that? People are used to movies where they don't need so much imagination."

Having sets and props to start with, knowing that the sets will be saved, and having better lighting and sight lines will improve the look of local plays.

"Because we have a scene shop, we've already had donations of tools and material for use by the drama department," Vork said.
---
Contact the author at paypress@lkdllink.net • Return to News Menu
Home | Marketplace | Community
---