The Children's Theater through Paynesville Community Education will present "101 Dalmations" this Thursday and Friday, June 19 and 20, at 8 p.m. in the air-conditioned auditorium at Paynesville Area High School.

The mini-musical - directed by Colleen Pelton and Sue Teicher - features 32 actors and actresses from grades K-6. Cast members are: Kellen Anderson, Amber Bromen-schenkel, Carla Bromenschenkel, Ethan Brown, Josh Bungum, Sam Bungum, Gina Coakley, Samantha Dahl, Katrina Haagenson, Hayden Hengle, Kendra Hengel, Kristine Hoeft, Tyler Kortlever, Carly Lehmkuhl, Randi Lehmkuhl, Karla Leitzman, Taylor Loesch, Amelia Malling, Rachel McCloud, Allison Poepping, McKenzie Quade, Alyssa Schultz, Jackie Jo Skoglund, Ty Soine, Hayden Spaeth, Allie Stanger, Trey Stanger, Teirrah Syvertson, Krista Topp, Susan Voss, Katie Weidner, and Whitney Woehler.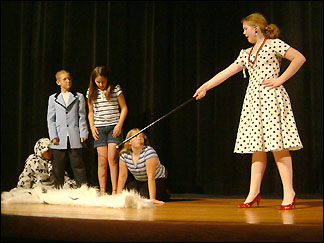 The performance features a total of nine songs and is accompanied by Lindsey Pelton and choreographed by Tanya Whitcomb.
The evil Cruella (Karla Leitzman) becomes irate after tripping on a dalmation dog.
"101 Dalmations" is a mini-musical written by Dennis and Steve Whipple from the Great River Educational Arts Theater in St. Cloud. It is the story of young love between Mary Fizer and John Dearly and their dogs Pongo and Misses. When Pongo and Misses have 15 adorable puppies, Cruella wants those puppies, at any cost, to make a new coat for herself. She enlists the help of her two favorite crooks, Emma and Rhonda, and steals all of the puppies.
Will the puppies be rescued? Will Cruella be punished? Will the crooks really do away with those innocent puppies? You will have to come to the play to see.
Free refreshments will be served following the performance. Tickets are $4 for adults and $2 for students. Preschoolers are free.
---
Contact the author at editor@paynesvillepress.com • Return to News Menu
Home | Marketplace | Community
---