In 1961, Joe Voss moved to Paynesville to start a plumbing business. Forty-two years later, he has been named the grand marshal of the 2003 Town and Country Days parade in recognition of his service to the community.

"I feel honored that the Chamber has recognized the things we've tried to do and accomplish," said Voss. "I used to think you had to be quite old and retired for this, but I don't feel old now," he joked.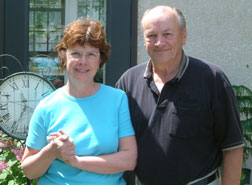 During his time in Paynesville, Voss has seen many changes in the community and has been an active civic leader as well as a businessman. Twice mayor of Paynesville, Voss said one of the biggest challenges for the community is doing what it takes to stay viable in the midst of change. He says one of the biggest steps in that direction was the starting of the Industrial Loop in 1975.
"I think the biggest change has been Paynesville shifting from a strictly agricultural community back in the '60s to a now predominately industrial and business community. The face of the community has changed and will continue to change," said Voss. "The key is to revitalize the infrastructure of the community, while maintaining a good business climate," he added.
This concept is particularly relevant due to the upcoming Highway 23 decision, he said. "The only thing that's for certain is we're going to have change, so we should embrace it instead of be afraid of it," he said.
That view prompted Voss to start the Paynesville Human Rights Commission when he was mayor and to start the Festival of Ethnic Traditions to embrace culture.
Voss is proud of his family-owned plumbing business, which he sold two years ago after 40 years. Voss came to Paynesville to start the business when his sister, who lived in the Paynesville area, thought there may be demand for plumbers in the area. After only a day of looking, Voss felt Paynesville would be a good community to live in, so he moved to Paynesville from the Twin Cities with his wife and two small children. His father, who owned a number of plumbing businesses, helped him purchase the Gamble's Hardware Store and set up the new plumbing shop.
"The nicest thing about this community is they supported us," said Voss. "We had to go in and deliver the goods, but it was enough to make a good living and get the kids through college." Voss had four or five employees who worked for him for over 25 years.
Voss credits the scope of his civic accomplishments to his wife, Sue. "I couldn't have done any of this stuff without my wife," said Voss. "She was there to take care of the kids when I was off doing other things." Sue takes her role as a mother and grandmother quite seriously. "I have 15 grandkids that are my pride and joy. That's my best job, is being a grandma," she said.
Voss says he would recommend living in Paynesville to new families and retirees alike. "Paynesville has an excellent health care system, an excellent school system, and a small-town atmosphere for kids to be raised in," said Voss. He remembers going to meetings with mayors of other towns and listening to them all say their community was the best, but he jokes that he knew he was the only one who was right.
Aside from being mayor twice, Voss' accomplishments include membership on the Paynesville Area Chamber of Commerce since he came to town, being a trustee at his church for 20 years, being president of the Paynesville Development Corporation since 1975, being president of the Jaycees, being a member of the Lion's Club, being on the Good Samaritan board for 20 years, and being a member of the volunteer fire department for 25 years.
Currently, Voss is on the national board for the Plumbing, Heating, and Cooling Contractors Association, which is a band of contractors in Minnesota, Wisconsin, Iowa, and the Dakotas. The association's primary concerns are improving the safety and health of the public through education by addressing concerns such as lead in water, asbestos, and mold, he said.
Although he golfs a lot, Voss said the closest thing he has to a hobby is going on trips with his wife to visit their children. Other than that, he says his time is pretty well consumed with his work for the Plumbing, Heating, and Cooling Contractors Association. He and his wife spend time in Arizona in the winter.
---
Contact the author at editor@paynesvillepress.com • Return to News Menu
Home | Marketplace | Community
---