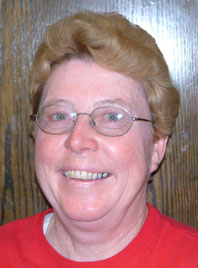 (Editor's Note: This final retirement feature looks at the career of high school physical education teacher Carol Smith, one of eight staff members at the Paynesville Area Schools who is retiring this spring. Others who retired at the end of this school year are elementary teachers Bev Hanson, Diane Nelson, and Berniece Voss, middle school special education teacher Kathy Olmscheid, high school teachers Steve Aagesen and Gerry Meyer, and instructional aide Carol Fenske. )
When Carol Smith arrived at Paynesville Area High School in the early 1970s, PAHS had no girls' sports programs. But Smith - who retired this spring after 34 years of teaching and 31 years of coaching - started five varsity sports for girls (gymnastics, track, basketball, volleyball, and softball) and served as the head coach for each during her time at PAHS.
The decision to become a coach and physical education teacher was always clear to Smith, because she had a sports-oriented family and a number of relatives who were teachers. "I thought to myself, gee, combining teaching and sports sounds like the best of both worlds," she said. After 34 years at PAHS, Smith said she doesn't really have any regrets, "but it's a little hard on the legs," she joked.
Smith came to Paynesville in 1971, with the charge to teach physical education and start the girls' athletic program. She heard about the opening from school aide Bernie Roeser, who was on her softball team. Shortly afterward, her contract arrived in the mail on her birthday. "It was quite the birthday present," remembered Smith.
Smith began by starting the gymnastics and track programs for girls. A couple years later, she started basketball, which was initially played in the fall to avoid conflicts for gym time. But with the later additions of volleyball and softball, girls' basketball was switched to a winter sport.
"These days, girls kind of take for granted that they have the right to play in sports and the right to good facilities," said Smith.
The struggle for fan appreciation, fair gym time, and decent facilities was slow and arduous at first, said Smith. She recalled an example of a track meet held at BBE when her girls had to run through the outfield of a baseball diamond while a game was in progress. "They had a rule that when a baseball hit a girl it was a ground-rule double," said Smith.
Smith is happy to see a large number of girls participating in sports these days. "It was challenging, but it's come a long ways," she said. She feels that girls' athletics are no longer viewed as secondary programs and is glad that coaching salaries for girls' sports are now on par with those of boys' sports.
Her teaching goal - for physical education and for health - has been to provide her students with the resources they need to become healthy, active adults. "It's education for a lifetime," said Smith. "I try to provide them with some basic knowledge in health and physical education so they can have good decision-making skills and become critical thinkers." Additionally, her students learn the Heimlich maneuver and have CPR training, both of which have been used in real-life situations by some of her students.
One of Smith's favorite parts about coaching is that she got to know her athletes on a more personal level over the course of the season. "There's a lot more competition than in gym class, and it's fun to see the intricacies of personalities working together on a team," she said.
As a physical education teacher, Smith said her biggest challenges were finding something where everybody can be successful; motivating students who don't want to participate; and helping people get along in the spirit of competition. Her favorite things about being a gym teacher include doing warm-ups with the kids, being outside on beautiful spring and fall days, and seeing students who have struggled to find success make a big play.
One of Smith's goals as a gym teacher was to help students gain an understanding and appreciation of the rules of a wide variety of sports. "They may not be a good tennis player, but hopefully they can learn to appreciate the skill involved in the sport," she said. Smith said health class
provides a nice change of pace from the gymnasium. She likes the opportunity for discussion of controversial topics and said it was interesting to hear strong opinions from students.
Smith does not consider herself retired but rather as graduating into a new career. "Time will tell what it will be, but I'd like to use my skills that I've developed from this job. Something along the lines of a public health educator would be ideal," said Smith.
She said she will miss the students and staff but is ready to try something new. "It's easy to just keep going doing the same thing, but it can also be very rewarding to try something different," she added.
To those considering teaching as a possible career, Smith said: "You'll never be rich, but as long as you're having a good time it's very rewarding." She also says it is important to be a self-motivator, because people will often go out of their way to complain but rarely to compliment.
In her free time, Smith participates in a volleyball league in Willmar and a summer softball league in Litchfield. This summer she plans to take some extra time to do gardening and yard work, read good mystery novels, walk her two dogs, and travel in Europe.
---
Contact the author at editor@paynesvillepress.com • Return to News Menu
Home | Marketplace | Community
---