Peepers car show results
This article submitted by Beth Zimmerman on 6/16/98.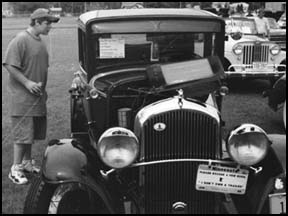 The 1998 Peepers Car Show was held Sunday in conjunction with the annual Peepers Picnic. The winners in each class are as follows:

1889-1931 StockÖ1st-Bob and Marie Baas of Alexandria, 1931 Plymouth.

1932-1948 StockÖ1st-Bill Miller of Paynesville, 1936 Chevrolet; 2nd-Rich Kochmann of Lakeville, 1948 Jeepster.

1949-1964 StockÖ1st-Larry and Twylah Suhsen of Delano, 1953 Mercury; 2nd-Larry and Laura Engele of St. Joseph, 1961 Pontiac Bonneville; 3rd-Gerald Wodtke of Buffalo, 1956 Oldsmobile Convertible.

1965-1977 StockÖ1st-Bill Bemboom of Buffalo, 1970 Chevelle; 2nd-Bob Herbert of Litchfield, 1967 Pontiac; 3rd-Scott Ehresmann of Cold Spring, 1972 Cuda.

1978-Present StockÖ1st-Doug Baker of Clitherall, 1979 Trans-Am; 2nd-Brian Braegelmann of St. Cloud, 1985 Grand Prix; 3rd-Kevin Block of Paynesville; 1988 Monte Carlo.

Corvette and T-BirdsÖ1st-Carol Ulrich of New Ulm, 1957 T-Bird; 2nd-John Kappers of Willmar, 1966 Corvette; 3rd-Bob Braegelmann of St. Cloud, 1973 Stingray.

Trucks StockÖ1st-Craig Carlson of South Haven, 1951 International; 2nd-David Kathner of Willmar, 1972 Chevrolet; 3rd-Paul and April Damhof of Willmar, 1956 Chevrolet.

Trucks ModifiedÖ1st-Korie Brown of Paynesville, 1936 Chevrolet; 2nd-Dick Schwartz of Paynesville, 1956 GMC.

StreetrodsÖ1st-Leo Whitman of Brainerd, 1934 Plymouth; 2nd-Ron Marquardt of Maple Plain, 1929 Model-A; 3rd-Clarence Zanoth, 1931 Chevrolet.

1949-1964 ModifiedÖ1st-Doug Nordin of Willmar; 2nd-Snook Barett of Osakis, 1950 Ford; 3rd-Lee Savoie of Darwin, Volkswagon.

1965-1977 ModifiedÖ1st-Dave Rathje of Annandale, 1972 Nova; 2nd-Rich Alben of Hutchinson, 1971 Dodge; 3rd-Alan Plantikow of Minneapolis, 1969 Firebird.

1978-Present ModifiedÖ1st-Dean Smith of Willmar, 1988 Mustang GT; 2nd-Kevin Block of Paynesville, 1980 Monte Carlo.

Mustang and CamaroÖ1st-Dave Sampson of Willmar, 1968 Camaro; 2nd-Paul and April Damhof of Willmar, 1992 Mustang; 3rd-Jim Kascht of Richmond, 1969 Camaro.

MotorcyclesÖ1st-Bob Liestman of Paynesville; 2nd-Deb Bengtson of Paynesville; 3rd-Gene Martinson of Paynesville.

OpenÖ1st-Terry Lyons of Rice, 1965 Pontiac Low-Rider; 2nd-Mike Christen of Paynesville, pulling tractor; 3rd-Travis Reutzel of Paynesville, Dragster.

Long distanceÖJeff Early of Duluth.

Club ParticipationÖPantowners of St. Cloud.
---