PHS band places third at Benson
This article submitted by Linda Stelling on 6/16/98.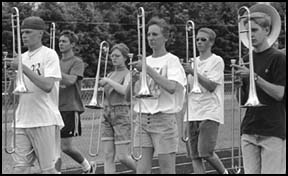 The Paynesville High School Marching Band held its first ďspat campĒ June 12 and 13 at the high school.

The camp was held for band students interested in marching this summer. According to director Bryan Mara, the camp provided extensive training in form (stepping correctly for parades) appearance of posture, playing well while marching and to polish off their entire presentation.

The students practiced on the high school track from 8 a.m. until dark.

The band consists of 60 instrumentalists, 14 percussionists, and11 flag girls.

The band competed in their first parade Sunday evening, June 14, at the Benson Pioneerland Band Festival. The festival was held in conjunction with the countyís celebration honoring the centennial of the construction of the Swift County Court House.

The band festival featured 16 high school bands in three classes. The Paynesville Marching Band in their first parade brought home a third place trophy.

ďI was really pleased with the students as there were some very good bands in the parade,Ē Mara said. First place went to New York Mills and second place honors went to Yellow Medicine East.

ďThe parade provided the band with some great experience,Ē Mara added.

Other bands competing in the parade were Montevideo, Dassel-Cokato, Kerkhoven-Murdock-Sunburg, Milaca, Anoka, Alexandria, Fergus Falls, Park Center and Mankato.

On Friday, June 19, the band leaves for Winnipeg, Canada and on June 24 they will compete in the Foley parade and march in the Willmar parade on June 27.
---