Evans new manager of Cenex
This article submitted by Aaron Ziemer on 6/16/98.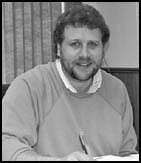 Paul Evans is the new manager of the Cenex Cooperative. He took over the job from Mark Jaskowiak on April 13.

Evans has the job of running the day-to-day operations of the entire co-op. He has supervisors for each department, but he must fill in for each of them occasionally.

Evans is also responsible for the collection of all accounts on the charge accounts.
---