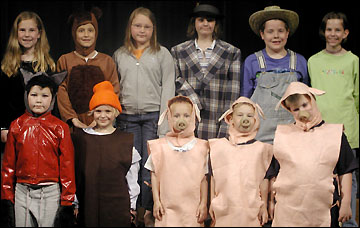 The Paynesville Community Education summer theater is set to present three plays - "The Gingerbread Man," "Little Red Riding Hood," and "Trial of Amanda Marie Locks (Goldilocks)" - on Thursday, June 17, and Friday, June 18, at 7 p.m. in the high school auditorium. Forty-four kids in grades K-8 will star in the plays.

In "The Gingerbread Man," (cast pictured at right) a talking cookie rides bikes and scooters but can't remember what the GM on his coat stands for. Later, the sly fox comes along with the three little pigs who don't realize they are in the wrong story. The cookie finally realizes what the GM stands for, but will it be too late?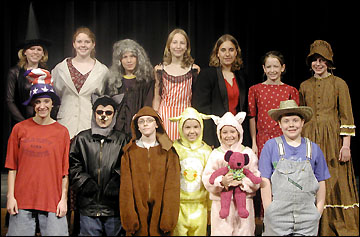 In the "Trial of Amanda Marie Locks," (cast pictured at left) Goldi is on trial for breaking and entering the bear's house and for destruction of property. Some of the witnesses against her include the three bears, Wilma the witch, Duke the wolf, and Grumpy the dwarf. In this spoof of the familiar children's story, the judge becomes infatuated with the beautiful Goldilocks, leading to a most unusual ending.
"Little Red Riding Hood" (cast pictured below) features seven dwarfs who are looking for the talent show, Snow White, and a wolf (who's really a slobbering Irish Setter). No one knows if Little Red Riding Hood will be eaten or if her grandmother will be saved.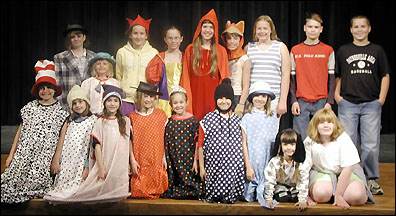 Tickets to the plays are $4 for adults and $2 for students. Preschoolers are free. Free refreshments will be served following the plays.
Cast of Characters
The Gingerbread Man
Sam the storyteller: Amelia Malling and Ivy Nelson
Cookie: Teirrah Syvertson and Avery Davidson
Ham: Hudson Gray
Porkchop: Matthew Rossler
Pigtail: Erik Malling
Fox: Rachel McCloud
Farmer: Kellen Andersen
Old man: Melissa Hawkinson
Horse: Lauren Spaeth
Old woman: Brittany Niewind
Cow: Ralph Daby
Stage manager: Kellen Andersen
Assistant stage manager: Brittany Niewind

Trial of Amanda Marie Locks
Judge: Jared Eickhoff
Prosecutor: Karla Leitzman
Goldilocks - Amanda Marie: Erin Guzy
Defense attorney: Jayna Flanders
Mr. F.D. Bare: Tyler Kortlever
Bonnie Bare: Katrina Haagenson
Winthrop Bare: Bailey Gray
Wilma Hazel: Kaitlin Burlingame
Duke: Hayden Spaeth
Phoebe Florsheim: Katie Sviekowsky
Grumpy: Allie Weidner
Clara Muffet: Taylor Haag
Jack Dudley Klump: Kellen Andersen
Bailiff: Ralph Daby

Little Red Riding Hood
Narrator #1: McKenzie Quade
Narrator #2: Briana Temple
Red: Kristine Hoeft
Mom: Amanda Hawkinson
Dad: Melissa Hawkinson
Irish: Katie Weidner
Elf 1: Kendra Hengel
Elf 2: Carly Lehmkuhl
Stagehand: Aaron Gehrke and Ralph Daby
Dwarf 1: Shelby Rolfus
Dwarf 2: Katelyn Hoeft
Dwarf 3: Taylor Loesch
Dwarf 4: Allison Poepping
Dwarf 5: Paige Friedrich
Dwarf 6: Katelyn Mrozek
Dwarf 7: Paige Schmitt
Dog: Sadie Rolfhus
Snow White: Kayla Pelkey
Grandmother: Leslie Rossler

---
Contact the author at editor@paynesvillepress.com • Return to News Menu
Home | Marketplace | Community
---