Two months ago, a drought had area farmers concerned about their crops. Now, after one of the wettest Mays on record, farmers are hoping for some sun, before their crops drown in the fields.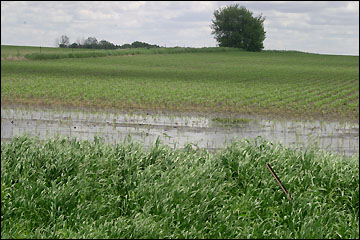 In May, the entire state had record rainfalls, making it one of the wettest Mays on record.
Harry Theilen, who monitors rainfall near Lake Koronis for the North Fork Crow River Watershed District, recorded nearly 10 inches of rain during the month of May. With three inches of rainfall (as of last week), June is starting as a wet month also, he said.
According to Dave Schwartz, an educator for the Kandiyohi County Extension Office, rain has taken a toll on many area fields, especially fields north of Paynesville with heavy soil and fields that haven't been tiled.
With more than 13 inches of rainfall since May, area farm fields are saturated and standing water had become a common sight in the area, especially in the heavy soils north of town.
The area's alfalfa crop is suffering the most right now, he said.Beautiful weather in the early spring allowed many farmers to plant alfalfa early, said Schwartz. Early May rain helped the alfalfa crop flourish in most cases, but now many farmers can't get into the wet fields to mow alfalfa and many farmers who have been able to mow can't bale the hay because it's too wet.
Matt Fuchs, a dairy farmer near Lake Henry, is in the latter group. Fuchs mowed hay early last week. While he baled about half of his crop, the other half is still laying in the field breaking down and turning moldy, he said.
The hay needs three to four dry days before it is dry enough to bale, and every day it lays in the field it looses bulk, gathers more mold, and becomes less nutritious for his cattle, he said. Already, the crop that is laying in Fuch's field isn't fit for dairy heifers and will be fed to steers and young animals instead. If the next cuttings aren't good, Fuchs will have to buy alfalfa for his heifers.
Just because alfalfa isn't laying cut in fields doesn't mean the crop is still good, according to Schwartz. Alfalfa is most nutritious just before it blooms, and any alfalfa still growing is probably blooming, he said. Farmers with blooming alfalfa could also end up buying more nutritious feed for their animals.
Besides leaving fields muddy or under water, the cool wet weather is ideal for many plant diseases, including "damping off," a fungal disease that kills young soybean plants. Plants affected by fungi either don't emerge because the seed has been damaged or emerge only to appear to rot at the base of the stem. If the plant doesn't die from the fungus, yields are still reduced, according to Schwartz.
Fungicides are available to limit damage to crops, but they can be expensive and using them cuts into the bottom line, said Schwartz. Another problem with the fungus is that farmers with widespread damage are finding that it is too late in the season to replant their crops.
Soybeans like warm soil temperatures to germinate, so soybean planting is usually done from mid-May to early June, at the peak of this year's spring rains. In some cases, according to Schwartz, there was too much rain for farmers to finish planting beans, and now it's too late to plant many varieties of soybeans. These farmers will take a big financial hit, especially since the price of soybeans is relatively high, though it's still too early to tell how the weather will affect soybean prices in the fall, said Schwartz.
Too much rain can also harm the soil by washing out nitrogen stores and by causing the soil to erode, damage that could be felt by farmers for years to come.
Some crops are faring well in spite of the wet conditions, said Schwartz. The area's small grains, corn, and soybeans that haven't been hurt by disease are doing well if farmers got them planted before the rain started.
In fact, according to the Minnesota Department of Agriculture, oats and barley are developing at a rate faster than the five-year average. Soybeans that made it into the fields are 91 percent emerged - compared to 89 percent last year and 86 percent for the five-year average - and corn is just slightly behind average. It's still early enough that warm, sunny weather can still help crops catch up, said Schwartz.
Warm, sunny weather may come soon. The area's immediate forecast for the next week is for more sunshine than rain. According to the Minnesota Department of Agriculture, partly cloudy weather is predicted for the first half of the week, with the next chance for rain on Friday.
Glen Young, a weather forecaster from Litchfield, believes the soaking is over. According to Young, the current cool, wet weather will soon turn to dry weather with temperatures evening out and warming up. Late summer should be dry, but not droughty, he predicted. Hopefully, the biggest problem farmers will have to face for the rest of the summer is the bumper mosquito population that will undoubtedly be the product of the wet spring, Young said.
---
Contact the author at editor@paynesvillepress.com • Return to News Menu
Home | Marketplace | Community
---