When Dennis Olmscheid's youngest daughter graduated from high school earlier this month, he was able to attend the party, which was no small feat for the man who was rendered a quadriplegic after a car accident last July.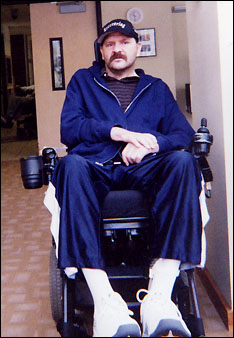 On Friday, Olmscheid hopes to be there when his family, friends, and neighbors gather again, this time to hold a benefit for him in Lake Henry.
An auto accident in July 2003 rendered Dennis Olmscheid a quadriplegic.
Olmscheid, who lived on the same Lake Henry area farm where he grew up until the accident left him with a spinal cord injury that robbed him of the use of his arms and legs, now lives at the Courage Center in Golden Valley, where he spends his days re-learning how to perform everyday activities like feeding himself with assistive tools and moving himself from his motorized wheelchair to his bed.
That he can do this much is a miracle, according to his sister, Diane Pelzer of Lake Henry.
After the accident, Olmscheid was airlifted to a hospital in the metro area where his friends, neighbors, and family packed the waiting room to wait for news on his condition. Pelzer didn't count heads in the waiting room - she was overwhelmed with grief and worry - but she was thankful that so many people came to support the family during the days after his accident.
From those first days, Olmscheid's family - including his parents Jerome and Lorraine of Lake Henry and his sisters and brothers - have enjoyed unwavering support from the community, said Pelzer. She wasn't surprised that her brother had so many friends - people from the Lake Henry and Regal areas have always taken care of each other - but, since the hospital was so far away, she was surprised that so many could miss work and other activities to make the trip.
Once, several weeks after the accident, 15 of Olmscheid's friends hired a bus to take them to the hospital so they could all visit at once. "The nurses thought the group was his baseball team," laughed Pelzer. One senior in the group teased that he was an umpire, she added.
The first weeks after the accident were touch and go, said Pelzer, "We thought we had lost him so many times." But Olmscheid grew stronger and by mid-November he was ready to move to the Courage Center to begin rehabilitation.
In the six months since moving to the Courage Center, Olmscheid has made great strides, said Pelzer. He had some setbacks, she added, but after months of grueling physical and occupational therapy, he has gained limited use of his arms and he can move one of his hands, although using it to perform tasks is impossible. He can't move his legs, but he does have some feeling in them and recently began responding to touch to his legs.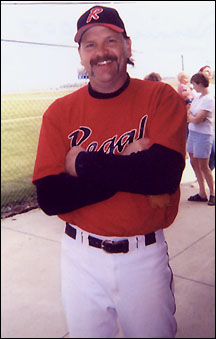 In fact, Olmscheid is doing so well, that he may soon be able to leave the Courage Center and move to a facility closer to his home and closer to his daughters - Nikki, 20, Rachel, 18, who just graduated, and Aimee, 16 - and the things he loves.
Dennis Olmscheid in uniform for the Regal Eagles, a baseball team he joined at the age of 45.
Olmscheid is a huge baseball fan and joined the Regal baseball team last year at the age of 45 just so he could pitch. He got a kick about still being able to pitch at his age, said Pelzer. Before that, he played baseball for Lake Henry for many years. He also loves horses, but his favorite activity is hanging out at home with his friends and playing cards.
Now, it's difficult for Olmscheid to make the long trip home to visit or to take in a ball game, as he did last weekend. Being close to home again may help his recovery, said Pelzer.
Before the accident, Olmscheid was a welder for Spanier Welding in Paynesville. While her brother is getting stronger every day, according to Pelzer, he will never be able to work again and will probably need 24-hour care for the rest of his life.
To help ensure that Olmscheid's future needs are met, his family, his friends, St. Margaret's Catholic Aid, and the St. Margaret's Order of Catholic Foresters are sponsoring a benefit on Friday, June 18, at the Sportsman's Den in Lake Henry from 4 p.m. to 9 p.m. All proceeds from the benefit will go into a trust fund for Olmscheid's future care.
A lunch of sandwiches, bars, and salads - with a freewill offering - is planned along with a silent auction, a raffle for an ice fishing house, and a dance from 10 p.m. to 1 a.m.
Donations for the silent auction are still being accepted by Pelzer (320-243-4533 or 320-243-4539) and by Sandy Lensing (320-243-3580).
According to Pelzer, donations for the silent auction have poured in. The family is overwhelmed with the support they've received for the benefit, she said. On behalf of the family, Pelzer wants to thank the community and the family's friends and neighbors for their support.
---
Contact the author at editor@paynesvillepress.com • Return to News Menu
Home | Marketplace | Community
---