After serving in the Paynesville Area Schools for 15 years, superintendent Howard Caldwell will retire this June.

Caldwell, who has served as an educator for 35 years, said that he has mixed emotions regarding his retirement. Being at the same location for 15 years, according to Caldwell, created an area of comfort that will be hard to leave. But, he added, it will be nice to have the opportunity to travel and spend more time with his family in retirement.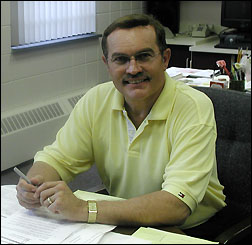 Caldwell came to the Paynesville school district in July 1989 after serving as superintendent in Norwood Young America for four years. Caldwell said that he came to Paynesville because he liked the central Minnesota area. At the time, Caldwell added, he didn't know about some of the issues that our district faced, but he accepted the challenges freely.
The duties of a superintendent are hard to pinpoint, explained Caldwell. He is the chief administrator of the schools, including supervising administration and staff, complying with all rules and regulations, being responsible to the school board, and preparing and administering the annual budget. The district offices must track every expenditure and income on a daily basis. The district has a total yearly budget of around $10 million.
According to Caldwell, he does a lot of budget work and negotiations regarding staff pay. He really enjoys his job, he said, because it's never repetitive. "I enjoy all of the good and bad that comes with the job. It's always an interesting challenge," he said.
Regarding why he stayed in Paynesville for longer than any other town, Caldwell said, "I really enjoyed the community and the school." Paynesville is a great location, he added, and the people are excellent to work with.
Caldwell admits that he did look around for other opportunities, but he hated to leave Paynesville.
Caldwell said the biggest changes that he has seen in the school district came in his first five years in Paynesville. In his first years, Caldwell said, the district faced a major deficit of about $450,000. Part of his job was to create an appropriate plan to get on track to function as a financially healthy school district. This deficit was eventually solved by an excess levy, budget cuts, and enrollment increases.
Another major problem that the district faced upon Caldwell's arrival was that the old middle school was close to being condemned by the fire marshal. District voters had rejected a plan for a new middle school in the 1980s, but approved a plan in the 1990s to build the new Paynesville Area Middle School and to remodel the elementary school.
At the present time, with the enrollment decreasing, Caldwell said he feels bad because the district can't offer the same type of programming that it once did because of insufficient funding. Despite recent budget cuts, Caldwell is glad to leave the district with it headed in the right direction financially.
Caldwell graduated from Danube High School in 1965 and earned his bachelor of science degree from St. Cloud State in 1969. He then earned his master of science degree in secondary school administration and specialist degree in general school administration at Mankato State.
In his 35 year career as an educator, he served as a math and science teacher for five years, as an assistant principal for two years, as a principal for six years, and as a superintendent for 22 years.
Caldwell is confident that new superintendent Todd Burlingame (formerly the elementary school principal) will do an excellent job. "He's got great experience and excellent people to assist him in the district office," Caldwell said. Burlingame and Caldwell have spent several months together preparing for the transition since Burlingame was hired as Caldwell's successor last fall.
According to Caldwell, he is excited to have more flexibility in his life after his retirement. While he doesn't have any definite plans for travel, he said he will enjoy the opportunity to be able to travel whenever he wants. Caldwell and his wife plan to stay living in their home on Big Lake for the time being.
He looks forward to spending more time with his kids and grandkids. He will also take care of many projects, he said, that he has been meaning to get around to for years. Without definite plans Caldwell will "see where life leads him after retirement."
Caldwell's last school board meeting is Tuesday, June 22, and his last official day is Friday, June 25.
An open house will be held in Caldwell's honor on Tuesday, June 22, from 5-7 p.m. in the media center at the Paynesville Area Elementary School. A short program will be held at 6:30 p.m. The board meeting will start at 8 p.m.
---
Contact the author at editor@paynesvillepress.com • Return to News Menu
Home | Marketplace | Community
---