(Editor's Note: On Memorial Day this year, surviving World War II veterans - 60 years after securing victory over Nazi Germany and the Japanese Empire - gathered for a group picture at the Paynesville American Legion Post #271 and at the Othmar Braun American Legion Post #612 in Lake Henry.

The Press editorial staff, over the past few weeks, has gathered details about their wartime service and has compiled this record of the men in the photographs. This week, we present the WWII veterans from Paynesville. Next week, we will run the picture and profiles from Lake Henry.)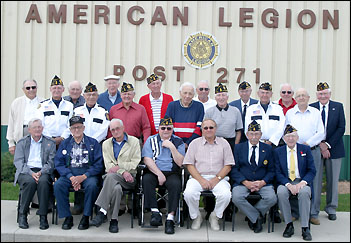 Surviving World War II veterans gathered at the Paynesville American Legion on Memorial Day for a picture: (front) Charles Weber, Arthur Herzberg, Arthur Liestman, Robert Aleckson, Earl Graves, Milt Koshiol, and Duane Bluhm; (middle) Don Lehman, Mathias Leyendecker, John Atwood, Ed McIntee, Ron Rowell, Jim Loomis, and Arthur Norris; (back) Arnie Minette, Werner Kraemer, John Sorenson, Bill Schultz, Murlin Olson, Clint Hoiseth, Jack Bugbee, and Don Torbenson.
Charles Weber
Charles Weber, who grew up in Paynesville and moved to Hawick when he got married, traveled much further as a helmsman and gunner's mate in the U.S. Navy in WWII. He served for two and a half years during WWII, mainly on duty in the South Pacific.
The most damage that was ever done to his fleet, though was not the Japanese, but a typhoon that lasted several days, said Weber, who later volunteered to serve in the army during the Korean War. Weber was in Toyko Bay the day WWII ended, leaving him with "a lot of sad memories," he said, especially of the way he saw islanders treated by the Japanese.
Arthur Herzberg
Arthur Herzberg grew up on a farm in Paynesville Township and enlisted in the U.S. Navy in 1944, serving two years in that branch. He was a cook on the U.S.S. Boston, a heavy cruiser that helped secure the Marshall Islands, the Philippines, and the Marianas Islands in the Pacific. Herzberg's battle station was as a loader on the 40-millimeter anti-aircraft gun and his scariest memory of the war was a kamikaze fighter flying low out of the evening sun on a suicide mission. But his gun crew turned it into a ball of fire, he said.
After the war, Herzberg, who lives in St. Paul, worked for a trucking company for 33 years.
Arthur Liestman
A native of Paynesville, Arthur Liestman enlisted in the Navy when he was just 16. He was aboard the U.S.S. Admiral Benson as a crewman and a 20-millimeter gun loader. After only four weeks of training, Liestman served in France and the South Pacific. His fondest memory is making six trips through the Panama Canal in his three years of service.
Liestman was discharged at the age of 19, under the points system based on time served, with service overseas counting double. After being discharged, he worked for 15 years as a welder in Paynesville and then worked for the highway department for 30 years.
Robert Aleckson
Robert Aleckson served nearly three years in the U.S. Navy during WWII. Enlisting in June 1945, he was a signalman on the U.S.S. Fred T. Berry, a destroyer in the South Pacific. His ship was one of the last out of China before the Communists took over in 1948.
Aleckson, who moved to Paynes-ville 11 years ago, worked as the head miller at the Northrup King seed plant in Minneapolis for 35 years following his discharge.
Earl Graves
Earl Graves enlisted in the Marine Corps right out of high school in 1944 and served in the month-long campaign to take Iwo Jima, where the Japanese defenders virtually all fought to the death. He was a corporal in a rifle platoon during that battle.
After the war, Graves worked as a plumber for 40 years. He built a cabin on Lake Koronis 40 years ago and retired here six years ago.
Milt Koshiol
Drafted into the army in January 1944, Milt Koshiol arrived in Europe in time to become an infantry replacement during the Battle of the Bulge. Then, he was part of Patten's Sixth Army as it drove into Germany.
His unit was part of the ill-fated Hammelburg Raid behind the German lines, and Koshiol was taken prisoner for 33 days before Patten's advancing army liberated him from Stalag 7A. He owned and operated Zapf Leather and Western Wear in Paynesville for many years following WWII.
Duane Bluhm
Duane Bluhm, a nearly lifetime Paynesville resident, joined the U.S. Coast Guard in 1942 and served in the navy for three years in WWII. (The Coast Guard becomes part of the navy in wartime.) He served as a baker aboard the U.S.S. Callaway, a troop transport, in the South Pacific. His ship covered 90,000 miles during the war and took part in nine combat landings, including Saipan, Iwo Jima, and Okinawa, he said.
His scariest wartime memory was a Japanese fighter that strafed their deck by the Philippines in January 1945, killing his best friend from South Haven. Then, after it was hit by anti-aircraft fire, the plane managed a suicide run at the ship, crashing into the deck and killing 48.
Don Lehman
In October 1944, Don Lehman's airborn radar showed something unusual: enemy ships in Leyte Gulf off the Philippines, in a spot where Japanese ships were not expected at all. It was the start of the Battle of Leyte Gulf, the largest naval battle in history and the Japanese's last attempt to win a decisive sea battle in WWII.
Lehman, the radar and radioman on a three-man torpedo bomber, and his plane survived a bombing run on the approaching fleet but could not land on their escort carrier. So they landed on a temporary airstrip on the beachhead on Leyte and joined a group of 60 torpedo bombers trying to stem the advance of the Japanese surface ships.
For his service that day Lehman, a businessman in Paynesville for years after WWII, received the Naval Air Medal.
Mathias Leyendecker
Mathias Leyendecker, who grew up on a farm by Roscoe, served in the 65th Infantry Division during WWII. They had advanced from LeHavre, France, the port secured by the D-Day landings, to Linz, Austria, when Germany surrendered.
After Germany's capitulation, his intelligence/reconnaissance unit stayed in Germany. Among his memories are liberating a concentration camp by Ordhoff and serving in Dachau after the war. He worked as a carpenter in Paynesville for years after the war.
John Atwood
John Atwood, originally from Barren County, Wis., was drafted into the army in 1944 and served in the South Pacific. His unit occupied Okinawa for a month and then moved to Seoul, South Korea, after Japan's surrender. He served with the 34th Combat Engineers and was part of headquarters/supply, in charge of recreational supplies. While in Korea, they made several trips to the demilitarized zone at the 38th Parallel, he said.
He moved to Paynesville Township in 1957 and worked as a field supervisor for an artificial insemination company before retiring in 1990.
Ed McIntee
Ed McIntee, who was born in Paynesville but raised in St. Cloud, enlisted in the navy in March 1945. He was a yeoman on the U.S.S. Admiralty Islands, an escort carrier. His ship was on its way to the Marianas Islands when the war ended, and then it returned to Hawaii. There, he met Australian POWs liberated from Japan and was extremely grateful not to have shared their ordeal.
He moved back to Paynesville Township in 1995 and subsequently retired here.
Ron Rowell
"I didn't even get my diploma. My mom got it for me, because by then I was almost to Russia," recalled Ron Rowell, who volunteered for the navy in 1943 as a senior in high school. He left the comforts of home for experiences like waking up to torrential rain soaking him because his tent had blown away.
Rowell served as a cook for up to 2,000 men on a ship that found and detonated floating mines near the Aleutian Islands of Alaska. He held the same position in an officer's mess hall on one of the islands, where he said he and the other cooks "made sure that they ate real good and made sure we ate better."
Rowell moved to Paynesville three years ago with his wife, who was raised here.
Jim Loomis
Jim Loomis served for two years in the U.S. Navy during WWII. He was a radio operator on Midway Island. Following the war, the Madelia native and Macalester grad came to Paynesville as a science teacher in the 1950s and worked for 34 years in the local school system, becoming one of the first full-time athletic directors in the state. (Prior to that, Loomis taught and coached in addition to being the part-time athletic director.)
Arthur Norris
The three numbers on Arthur Norris's license plate are all sevens, to remind him of his time in the Pacific with the 777th Ordinance Company in the U.S. Army, doing automotive repair work. Norris also spent time on a base as a driving instructor for a year, where he met his future wife. Norris saw combat on Guam and the Philippines, but his division went to Japan without him as he recovered from hepatitis in a canvas tent field hospital with a board floor.
After the war, he took over the family farm in Hawick, and except for his time in the army he has always lived there.
Arnie Minette
Arnie Minette, originally from Long Prairie, joined the navy in August 1943 at the Todd County Fair and served on a destroyer escort in the amphibious fleet in the Atlantic. His boat was part of the D-Day landings at Normandy Beach, but Minette had been recalled by then to be an instructor at the naval amphibious training center in Florida. He was disappointed to be called back, he said, even though his flotilla took heavy losses on D-Day.
After serving two and half years in the navy, Minette taught at PHS for 36 years before retiring in 1985.
Werner Kraemer
Werner Kraemer, a Lake Henry native who retired in Paynesville, was drafted into the navy in 1944, when he was 20. He served on a 350-foot landing ship, which could carry up to 12 tanks and, with its flat bottom, could pull up onto beaches in the South Pacific to release them.
The most frightening thing he faced during his 20 months of service was a typhoon with winds of 140 miles per hour and swells up to 90 feet. His ship, he said, was lucky to always arrive after battles had been finished.
John Sorensen
Though he never went overseas, John Sorensen did a lot of traveling in his time with the U.S. Navy, spending time on bases in Idaho, California, Virginia, and Illinois. He was teaching and coaching in Randolph, Minn., when he was drafted and given a choice between the navy and the army.
Sorensen worked in hospitals keeping health records, providing shots, and enjoying the chance to see the country. He moved to Paynesville in 2001 to be near his daughter, who teaches at PAES.
Bill Schultz
Bill Schultz, who has owned a house on Rice Lake for 48 years and retired there 19 years ago, survived 35 bombing missions over enemy territory in Europe in WWII. Enlisted in the Army Air Corps in 1942, Schultz flew a B-17 bomber, or Flying Fortress, and was sent overseas in July 1944.
Based in Italy, he supported the invasion of southern France in August 1944, flew the first night mission to Munich in October 1944, and survived 35 missions. His plane was damaged on 33 of those missions and two of his crew members received Purple Hearts. The average number of missions for a bombing crew was 11.
While every bombing mission was scary, facing German fighters and anti-aircraft guns, his scariest memory was when his plane went into a spin in a cloud bank and he was finally able to pull it out right between two peaks of the Alps. One hundred yards either way, and the plane would have crashed, he said.
After the war, he earned a degree in mechanical engineering and worked for three decades as director of construction for Woolworth.
Murlin Olson
Murlin Olson, who has lived in Union Grove Township almost all his life except for his time in the U.S. Navy, served aboard an LST in the South Pacific. These ocean-going landing craft were the largest in the navy and could haul 20 trucks and 75 men for an amphibious landing.
In June 1943, theirs was the only LST that had not unloaded its cargo onto Guadacanal in the Solomon Islands, which attracted the attention of 120 Japanese planes. Olson, a diesel mechanic, was in the engine room when a bomb hit his ship, causing it to sink. Then the crew had to get to shore in lifeboats, a 30-minute ordeal, while being strafed by the Japanese planes.
Olson served eight months overseas and two years in all in the navy. After the war, he farmed until 1960 and then worked as a building contractor for another 20 years.
Clint Hoiseth
Clint Hoiseth, a 1942 PHS grad, served for three years in the Army Air Corps during WWII. Trained to navigate B-17 or B-24 bombers and scheduled to go to Europe, he was still at the Lincoln (Neb.) Air Base when Nazi Germany surrendered. Instead, he went to the South Pacific.
After the war, he operated Hoiseth Ford with his brother for years in Paynesville.
Jack Bugbee
Born and raised in Paynesville, Jack Bugbee enlisted in the U.S. Navy in 1942 and served three and a half years stateside during WWII. He was a link trainer for aviation cadets, training them to use their flight instruments. He trained in Atlanta and was stationed in New Jersey, where the closest he got to combat was on blimp flights over the Atlantic Ocean, escorting Allied ships against German subs (which he never saw).
He used his G.I. Bill to build cabins at Bugbee Hive Resort following his discharge in 1946 and has now been involved with the resort for 60 years.
Don Torbenson
Don Torbenson, a former local school superintendent, spent three and a half years in the Army Signal Corps during WWII. He and his team entered areas in India, China, and the Pacific shortly after they were secured to install and repair radar equipment.
The small unit was attached to the air force when Torbenson enlisted in 1942, but for the last assignment he completed, they were with the navy. "I was glad to have the experience," he said, "but I wouldn't do it again."
Frank Houske
Frank Houske, who has lived in Paynesville since 2001, was with a headquarters outfit attached to the air force for three and a half years during WWII. He worked on maps on islands in the Pacific and was set to go to Japan. But, when atomic bombs were dropped on Hiroshima and Nagasaki and Japan surrendered, they never went.
He never faced enemy fire, he said, but he did fall sick with malaria six weeks after his return, with a fever up to 106.4 degrees. Though he met "a lot of good people" during his time of duty, the best part for Houske was returning home.
Marvin Engelson
Marvin Engelson was drafted into the army in 1945. He served in the infantry as a lineman, where he dealt mostly with communications. He didn't see much action, he said, because he was at the tail end of things. In the seven months that he was enlisted, he served in France, Germany, and Austria.
After farming in Wisconsin for many years, Engelson moved to Paynesville about eight years ago because he enjoyed the lakes area.
---
Contact the author at editor@paynesvillepress.com • Return to News Menu
Home | Marketplace | Community
---