Six young women will vie for the title of Miss Paynesville on Monday, June 20, at 7 p.m. The pageant will be held in the auditorium at the Paynesville Area High School.

Miss Paynesville, Katie Nelson, and her two princesses Kendra Johnson and Brittany Lieser, will crown the new Miss Paynesville and her princesses. The six candidates will be judged on poise and appearance, talent, and interview. They will represent Paynesville at numerous parades and events throughout the year. Admission is $6.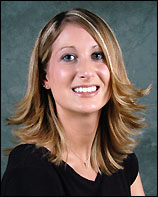 Kelly Herzberg
When Kelly Herzberg is not watching her favorite TV show "Oprah," you could probably find her reading, spending time with friends and family, scrapbooking, shopping, or listening to music.
Kelly is the 17-year-old daughter of Gary and Marilyn Herzberg. In the fall, Kelly will be a senior at PAHS where she enjoys being in danceline, being the cross country manager, being a member of SAVE, vice president of SADD, being on the prom committee, being in peer helpers, and teaching Spanish at the kindergarten level. She was also voted Most Improved for danceline and was inducted into the National Honor Society this spring.
In the community, Kelly likes being involved in her church where she teaches and attends Sunday School, is part of the church youth group, attends bible study, and provides care in the nursery. Kelly has also participated in the church's mission trips to West Virginia and to an Indian Reservation in South Dakota. She also volunteers her time at the Koronis Manor and at the Paynesville Public Library.
For her talent, Kelly will be giving makeovers.
She is employed by Alco and will be sponsored by Ted's RV Land.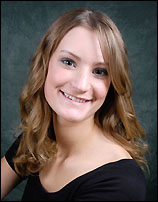 Lacey Bengtson
Lacey Bengtson is the 17-year-old daughter of Tony and Deb Bengston. She graduated from PAHS this spring and plans to attend Normandale College in the fall for an undecided major.
Lacey enjoys playing tennis and reading in her free time. Her school activities at PAHS included playing in the band, being involved in peer tutors, and being a football and wrestling cheerleader. She also received the Elite Cheerleading Award.
For her talent, Lacey will be playing a mallet percussion solo.
Lacey is employed by Tuck's Cafe and will be sponsored by Elite Photo.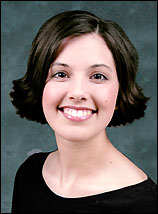 Kayla Nelson
Kayla Nelson is the 17-year-old daughter of Dave and Diane Nelson. She enjoys camping, sewing, jewelry making, baking, taking care of children, playing guitar, singing and song writing, reading, rollerblading, swimming, and target archery.
Kayla will be a senior this fall at PAHS where she participates in National Honor Society, peer helpers, peer tutors, Junior Olympic volleyball, prom committee, high school band, treble choir and mixed choir. She is also the president of the Students Against Violence Everywhere (SAVE), a member of SADD (Students Against Destructive Decisions), a gymnastics captain, and a junior varsity volleyball player.
In the community, Kayla enjoys being the president of the Southwestern MN Synod Lutheran Youth Board, a Teens Encounter Christ team worker, a Sunday School teacher, a kindergarten aide, a Community Education sports coach, a Vacation Bible School and day camp helper, and a dog watcher.
For her talent, Kayla will be singing. She is employed by Shores of Lake Andrew Bible Camp, and her sponsor for the pageant will be Stang Precision.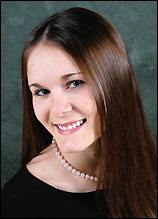 Tanya Whitcomb
State and national title holder of Miss American Rose, Tanya Whitcomb is not a rookie to pageants.
Tanya, who is the 17-year-old daughter of Don and Brenda Whitcomb, enjoys writing and recording music, playing piano and guitar, singing, sewing, and figure skating in her free time.
In the community, Tanya is a youth delegate for the Minnesota Annual Conference, she helped design and build the Methodist Church Prayer Garden, and she is a Minnesota United Methodist Youth in Action Team Youth Chaplain.
Tanya attended the U of M, Twin Cities, this past year as a post-secondary student; she will graduate with the Class of 2006 in the spring. At PAHS, Tanya has been involved in treble choir, track, wrestling cheerleading, peer helpers, student council, color guard, SADD, and STAR.
For her talent, Tanya will be singing a Beatles remix, which she arranged.
Tanya's pageant sponsor is the Steve. C. Whitcomb Insurance Agency. She is employed by the Lake Koronis Assembly Grounds.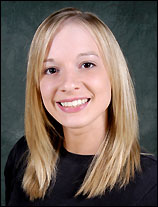 Maggie Frieler
Maggie Frieler, the 17-year-old daughter of Steve and Jane Frieler, is the seventh of eight children in her family. Maggie enjoys spending time with her family and friends, shopping, swimming, dancing, helping with the family business, and babysitting for her nieces and nephews.
Maggie's community activities involve being a Sunday School teacher at the St. Louis Catholic Church, being a mission volunteer at the Pine Ridge Indian Reservation, and serving on the Paynesville Human Rights Commission.
At PAHS, where Maggie will be a senior in the fall, she is involved in danceline, peer tutors, yearbook, and is a kindergarten aide.
Maggie will be dancing to "All that Jazz" for the talent portion of the pageant.
Maggie's sponsor will be BugBee Hive Resort, which is also her employer as well as the Pilgrim Inn and the Little Crow Country Club.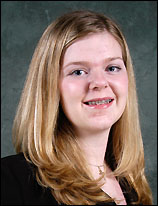 Lindsey Pelton
When Lindsey Pelton isn't singing in one of the five choirs she is involved in, she enjoys being with friends and family, looking at and creating art, finding new music to listen to, going to concerts, and watching movies.
Lindsey is the 17-year-old daughter of Ian and Colleen Pelton. In the community, she is involved in girls scouts, two church choirs, being an accompanist at St. Louis Catholic Church, and being a member of On Call.
At PAHS, where Lindsey will be a senior in the fall, she enjoys being a member of the National Honor Society, being in student council, participating in one-act plays, being in speech, singing in the mixed choir and pops choir, and playing in the band and jazz band. She was awarded "Best of the Site" in band in 2004 and "Best of the Site" in choir in 2005. Lindsey is also a Girls State alternate for Lake Henry.
For her talent, Lindsey will be singing and playing the saxophone.
Corner Floral is Lindsey's pageant sponsor as well as her employer. Lindsey is also a piano teacher.
---
Contact the author at paypress@lkdllink.net • Return to News Menu
Home | Marketplace | Community
---