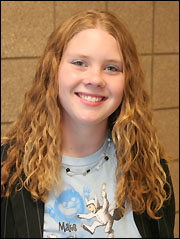 Leitzman, the daughter of David and Jane Leitzman, won the local essay contest sponsored by the Paynesville Human Rights Commission this spring at PAMS. Her essay, "Three Little Words That Hurt," dealt with discrimination. Her essay.

Eighth grader Karla Leitzman has placed second in a statewide essay contest sponsored by the League of Minnesota Human Rights Commissions.

In it, Leitzman argued that using the phrase, "That's so gay," amounted to discrimination against homosexuals. "Words have so much power to hurt. Knowing the pain that a word has caused to so many, would you ever call someone a 'nigger?' Even if there were no African-Americans to hear you use it, you would be using a word that offends African-Americans and was used by many whites to describe them as less than human," wrote Leitzman.

"Is using the name 'gay' for an unattractive event or unpopular idea really that much different from using the name in a cruel way to say that homosexuals are bad people? Even if you're certain that no gay people are around, if you get into the habit of using that name it is likely that you could call something, or even someone, 'gay' and another person you didn't even know might hear you and make a comment about it. I think that would be very embarrassing."

"The United States Bill of Rights does give us the freedom of speech. We can say what we want, but when what we say hurts others, we need to be careful about what and how we speak," she continued. "It's wrong to use our freedom of speech to harm others and take away their freedom to live as they wish without being insulted."

Leitzman will receive $350 for her second-place essay at a luncheon for the statewide winners on Sunday, June 26, in Richfield. She will also be reading her essay at the Miss Paynesville pageant on Monday, June 20.

Nearly 60 communities in the state have human rights commissions. Paynesville students - who write their essays in eighth grade civics class - have placed in state five times in the past six years. In addition to Leitzman, Alex Svejkovsky was second in 2004, Erica Geurtz was second in 2003, Tanya Whitcomb was third in 2002, and Adam Ingalsbe was third in 2000.
---
Contact the author at editor@paynesvillepress.com • Return to News Menu
Home | Marketplace | Community
---