Relay for Life raises funds for cancer research
This article submitted by Linda Stelling on 6/14/00.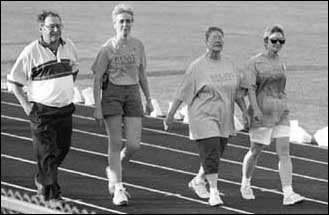 More than $81,000 was raised by volunteers for the Relay for Life held Friday night at the Rocori High School track.

There were 39 teams taking part in the Relay for Life. Of that total, 10 were from the Paynesville area.

Walkers on the first lap were cancer survivors. Among the Paynesville survivors were Kenny Fuchs, Brenda Stang, Faye Jones, and Shari Heitke.

Cancer survivor Shari Heitke, Paynesville, was the guest speaker at the opening ceremony. It was four and a half years ago that cancer touched her life.

Heitke encouraged cancer survivors to reach out to others with cancer and help them through their fight.

"Today, we have a better chance of survival because of research and medications," she said. "Our options are greater than they were 30 years ago."

During the luminary ceremony, Barb Larson, sister of Roxanne Knisley, Paynesville, talked about Rachel Knisley's fight with cancer. Rachel was discovered to have a brain tumor when she was four months old and died before her second birthday.
---