Health care workers create homey atmosphere
This article submitted by Erin Aagesen on 6/14/00.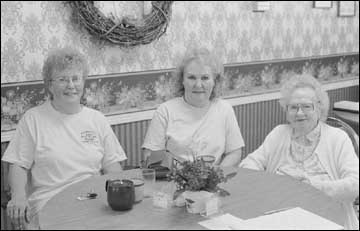 Ann Welle sits on a bed in her room at the Good Samaritan Care Center surrounded by framed pictures of family members. She waits anxiously for a television show to begin.

"I like it here," she says with a smile. "I don't think I could find a better place to be. Everyone here is very kind, and they never complain. I don't know how they can be so kind to older people."

Though she admits that she misses her house, staying in the Good Samaritan has been a good experience for Ann. Employees of the center take care of her bills, her medication, and her meals.

The hard-working staff in long-term care don't just feed, bathe, treat, clean, and move elderly residents. They put the home in nursing home.

Caroline Jacobson (she is pictured on the right with two daughters, Jeanne Liestman, left, and Audrey Schramel, center) is another resident of the same nursing home. "Everything is a-okay," she said. "I can go anyplace I want to. It's a wonderful place."

Her daughter, Audrey Schramel, agrees. Sitting in a chair next to her mother during a coffee break, she says, "I feel very good about having mom here. She is busy all the time. I almost have to make an appointment to see her!"

"The employees are all nice," she continues. "They go out of their way to talk to you."

Heather Fenske is one of those employees. The 19-year-old has worked at the Good Samaritan for over three years, filling positions both in activities and in dietary. She works during the summer and attends Trinity Bible College in North Dakota the rest of the year.

"I love it!" she said of her job. "I see (the residents) as my adoptive grandparents. It's nice being a part of their lives."

When working in activities, she reads the newspaper for the residents, conducts one-on-one visits, and assists with games like bingo.

Most of her time, however, is spent in dietary, where she sets tables, serves food, and washes the dishes. In between meals, she attends to cleaning duties around the kitchen.

"From the residents, I've learned to take it one day at a time, to live life to the fullest, that the little things in life are important," Fenske said.

As a charge nurse at the Koronis Manor, Judy Mayhew's work involves many varied tasks. Mayhew, a Licensed Practical Nurse, dispenses medication and performs medical treatments, such as dressing wounds. She also bathes and catheterize residents, assists the doctors, and works hand-in-hand with physical, occupational, and speech therapists.

About half of Mayhew's time is spent in quality assurance, her area of specialty. She monitors the use of psychotropic, or mind-altering, drugs. Anti-depressants, anti-anxiety drugs, and sleeping medications all fit into this category.

Mayhew must target behaviors and keep charts for the residents. At the end of the month, the results are discussed with a nurse practitioner so adjustments, if needed, can be made.

She also must talk to the family members of each resident to keep them updated on any changes in the health or behavior of the resident. "It's stressful," Mayhew said. "Do I go home with headaches? Lots of days. I'm not the only one."

Much of the frustration of her job comes from spending a large amount of time doing paper work required by the government, which she feels distracts from time spent with the residents. Furthermore, nursing shortages have forced more work on the shoulders of the nurses currently working.

"We're far busier now," explained Mayhew, noting the change from when she first began her job. "The patients are more acute, sicker, than they used to be." Despite the challenges, Mayhew displays a certain strength and conviction found in many workers in her field.

"I don't know of anything else that I'd really want to do," she said. "(The residents) are all good people. They are all individuals. I wouldn't have been here for 17 years if I didn't believe that."

Care and commitment like that is appreciated by residents and their family members.

Bertha Zniewski brought her brother from St. Cloud to the Koronis Manor after he suffered a stroke. She appreciated the care he received there. "It wasn't just that they worked there," she explained. "They tried to make the patients feel good. They kept them clean (and) called them by name. They were very personable."

Clarice Holthaus, rural Richmond, agreed that the staff makes a nursing home comfortable. Both of her parents were in the Manor. Like anyone, they were apprehensive at first, but the kind, considerate treatment made them feel comfortable. "Once they were there, they really enjoyed it," Holthaus explained.

"I just thought the quality of people there was unbelievable," she added. "They were really good to mom and dad and all of us."
---