Biking enthusiast rides thousands of miles on recumbent bicycle
This article submitted by Michael Jacobson on 6/14/00.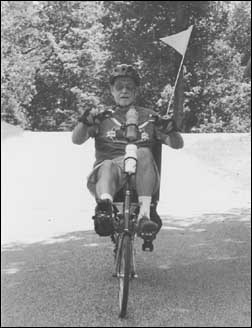 If Dwaine Lindberg would have put all his morning paper trips, errand runs, and evening joy rides together this spring, he could have pedaled his bike to Buffalo, N.Y., Cheyenne, Wyo., or Dallas, Tex. Already this spring, Lindberg, 74, a retired state social worker, has put 1,000 miles on his bicycle.

Lindberg, who has had a cabin on Lake Koronis with his wife, Sue, since 1965, can frequently be seen pedaling his way to or from town on roads around the lake or on local highways.

A day at the lake for Lindberg always starts with a ride to town in the morning to buy a newspaper. He frequently takes the scenic route, going to Eden Valley or Rice Lake first before coming to Paynesville.

Running errands to town was a reason that he started biking. During the oil crisis in 1974, amid warnings of impending gas rationing, Lindberg considered how many times he took the car to town. Then resolved to use his bike instead. "There are an awful lot of errands you can run on the bike," he explains.

Since 1974, Lindberg has become a more serious biker. "I started biking then, but I only did 38 miles (the first year) so I'm not sure I'd call that biking," he said. The most he has biked in a year is 4,700 miles in 1998. That is the distance from New York City to San Francisco to Los Angeles to San Diego, with 19 miles left over for day trips into Mexico.

This year, Lindberg looks different as he rides because he now has a recumbent bicycle. Unlike a normal bicycle, on a recumbent the rider sits leaning backwards instead of leaning forward.

Lindberg said his new bike puts less pressure on his back, from not having to lean forward, and his hands, which now can simply rest on the handlebars instead of supporting his weight. It also has a two-inch foam cushion for a seat and a back rest.

There are all kinds of styles of recumbent bicycles. Lindberg's was built by a custom manufacturer in the Twin Cities. With the front pedals and an elevated handlebar, it feels more like driving a motorcycle than pedaling a traditional bike.

Lindberg said he had to learn to bike all over again because the recumbent has a different balance, different steering, and different procedures for starting and stopping. Lindberg actually got the bike last fall and put on 200 miles to get a feel for it. Over the winter he doesn't do any riding, but does lift weights to stay in shape.

Even pedaling his new bike is different. Unlike a regular bicycle, where much of the power is generated by pushing the pedal, in the horizontal position of his new bike, Lindberg finds himself pulling as well as pushing the pedals.

"One disadvantage of (my new bike) is it's 15 pounds heavier than my old bike," he said, which makes climbing hills more difficult.

The gears on his new bike are in the traditional spot just in front of the rear wheel. But, since his pedals are by the front wheel, his bike has two chains instead of one. One chain runs from the front wheel to the opposite side of the gear box, and the other runs from the gear box to the rear wheel.

His bike has two brakes, but both of them are on the rear wheel, because his front wheel is smaller. Having two wheels of different sizes, forces him to carry two sets of spare tubes.

While still a minority, Lindberg said the number of recumbent bicycles is increasing. He is encouraged when youth tell him his bike is "cool."

One thing you may notice when you pass Lindberg on a local road is the safety precautions he takes. He always wears a helmet, and his bike is decked out with safety features like a rear-view mirror, a bright orange flag for visibility, and a flashing taillight.

Lindberg attributes his safety consciousness to an accident he had a number of years ago. Riding around one of the lakes in Minneapolis, his front tire was struck by a passing roller blader. He crashed and landed on his helmet, which was split down the middle. "If I hadn't been wearing that helmet, I certainly wouldn't be biking and I might not even be here," he said.

He took safety precautions before, but after that incident he was convinced of their importance. "Something can happen so fast," he explained.

In addition to his local biking, Lindberg makes longer rides through organized trips. He has ridden across Minnesota for eight of the last nine years in the Tram. He started riding the Tram in 1991, a year after the tour visited Paynesville.

Two years ago, he formed a team for senior riders in the Tram. In 1998, they had 16 riders, and last year they had 40. Their oldest rider a year ago was 80 years old. This year, they have 30 riders registered for the Tram, which starts on July 23 in Pipestone.

Lindberg said the team provides better camaraderie. The seniors took second in the team song competition two years ago, and were selected for having the best team shirt last year.

Lindberg thinks biking can be a healthy hobby for anyone. From his first tram, he recalls being afraid that he wouldn't be able to complete the ride for the day and would need to be picked up at 5 p.m. Not wanting that, he left early in the morning at 7 a.m., and surprised himself by arriving at the destination by 11:30 a.m.

Lindberg also has done a number of day rides, including the Tour of Saints in Cold Spring, the Heart of the Lakes Tour in Sauk Centre, and the Rum River Classic in Cambridge. One memorable ride was the Tour de Sprawl, put on by the Sierra Club, a conservation group. For that ride, they biked to various development sites in the Twin Cities and were given lectures about what was done wrong or right in the project.

His favorite ride, though, is the Headwaters Ride in Park Rapids each fall. The first stop on the ride is at the headwaters of the Mississippi River in Itasca State Park, and the leaves on the trees are usually turning colors.
---