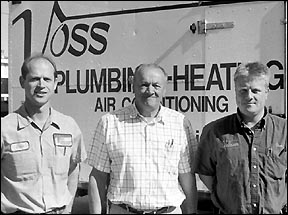 After 40 years in the plumbing and heating business, Joe Voss (center) has sold Voss Plumbing and Heating to his son, Dave Voss (right), and an employee, Dale Klein (left).

Voss and Klein have been in a buy-out program with Joe Voss for 10 years. They have been gradually taking over more of the business. "I'm pleased to be able to make an internal transfer," Joe said.

The new partnership took ownership on May 1. Klein is the president, and Dave the vice president.

Klein has been with the business 22.5 years. He started his training in Tracy when he was 15. He moved to Paynesville and started working for Voss as an apprentice when he was 20.

Of all his brothers and sisters, Dave is the only one who never worked at the shop when he was young. Now Dave has worked with his dad for 13 years.

Joe Voss will continue to work as the project estimator and handle some of the day-to-day business as Dale and Dave work out of town a lot.

In the last five years, the work load has more than doubled at Voss Plumbing and Heating. The men credit the economy and the variety of work they do to the increase. Their crews do new construction in residential homes, apartment buildings, and commercial proj- ects, and also do service calls.

Voss crews work in a three-state area. They keep six people busy on residential work in a 30-mile radius of Paynesville and do commercial work in a 400-mile radius of Paynesville.

Besides plumbing work, Voss Plumbing and Heating sells and installs furnaces, air conditioners, fireplaces, and water conditioners.

Joe Voss grew up in the plumbing business, learning the trade from his father. He started his own plumbing shop, with a Gamble hardware store franchise, in downtown Paynesville in 1961.

His business grew from himself and a truck to 22 employees and 14 service trucks. In 1980, the business moved to its present location on Highway 23.

Voss said in 40 years he has seen a lot of people trained at his place and go into business for themselves. "I take that as a compliment," he said.

Dave and Dale would like to see the business continue to grow. "We want to look at different areas to diversify," Klein said.

Dave is expanding the business into site utility (water and sewer mains) work for private developments. In the past, they have subcontracted out this portion of the work. "We have many people employed with experience in sewer and water," Klein said.
---
Contact the author at paypress@lkdllink.net • Return to News Menu
Home | Marketplace | Community
---