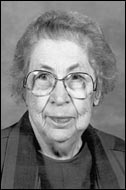 Frances Seifert, who died last week at the age of 94, came to Paynesville nearly 60 years ago as a newlywed, cooked in her and her husband's downtown restaurant for 37 years, and spent the last years of her life as a generous, though largely anonymous, donor.

Seifert and her husband, Frank, came to Paynesville from the Clements area in 1932 and opened a lunch counter downtown. "I remember when they first came to town and had just a hamburger joint and served hamburgers for a nickel apiece," said Lenora Holper, a retired nurse who has helped care for Frances for the past 15 years. "And I think pie was a dime a piece."

For four years, the Seiferts ran the lunch counter, and then they moved next door and started Frank's Cafe (now Wishin' Well Cafe). Frank managed, waited tables, and ran the cash register, and Frances cooked.

"She was a wonderful cook," said Holper. "It was her cooking that made the cafe."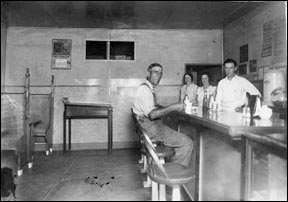 The Seiferts spent their honeymoon redecorating their new restaurant. "Starting during the depression wasn't easy for anyone, and the restaurant owners had it equally as hard," stated a Press story about the Seiferts upon their retirement in 1969. "The shortage of supplies, especially meat stamps, put a heavy load on the Seiferts. Most of the restaurants decided to close one day a week because of the shortage, and Frank chose Thursdays."
The Seiferts ran this lunch counter for four years before expanding into a full service cafe. Frances is in the far back while her husband Frank is in the front behind the counter.
During idle time at the restaurant, Frances started rolling string. In their early days of business, groceries came in paper packages tied with string. "I always said, 'When the hands are busy, the mind rests,'" Frances said in a St. Cloud Times story about her string ball in the 1980s.
Eventually, tape replaced string in the 1960s, and Frances faced a shortage of material to add to her ball, which ended up six-feet in diameter and 90 pounds in weight. In the 1980s, she tried to get the ball listed in the Guinness Book of World Records, but the book editors rejected her ball, listing a 10-ton twine ball from Meeker County instead.
Frances argued that twine is different than string, but her protestations got her nowhere with the book. "I came from a farm, and I know the difference between twine and cord string," she told the Times.
Her string ball is housed in the Paynesville Historical Museum instead.
Frank died three years after they retired from the restaurant business, and Frances lived alone, at home for the rest of her life, except for right at the end.
Holper and Mary Ann Meyer helped her stay at home even after Frances became legally blind. Millie Schmidt took Frances faithfully to St. Louis Catholic Church for mass each week. Frances also enjoyed going downtown, especially to eat.
Holper said Frances enjoyed tatting, a type of knitting, and listening to the radio in her later years. Frances had four radios, each tuned to a different station.
Frances was a generous, though silent, benefactor to her church and the community. Father Richard Leisen said Frances was an active leader in the church when she was younger, including helping to start the Daughters of Isabella in town. In later years, she bought property and donated it to the church and financed the expansion of the church cemetery.
"She did it in her own quiet way. She didn't make much fuss about it, but she was faithful," said Leisen.
She also donated to the Lions Club, including playing an integral part in the erection of the public restrooms in downtown Paynesville, and to the fire department.
---
Contact the author at paypress@lkdllink.net • Return to News Menu
Home | Marketplace | Community
---