Five girls will compete this year for the title of Miss Paynesville. The pageant will take place on Monday, June 18, at 7 p.m. in the Paynesville Area Elementary School gym.

Competing for this year's title will be: Melissa Bachman, Wendy Bennett, Naomi Bork, Erin O'Fallon, and Kelli Fenske.

Last year's royalty - Queen Trista Dukowitz, and princesses Ginni Lahr and Rebecca Werlinger - will be on hand to crown this year's royalty.

Escorts will be Nathan Martinson and J.T. Koehn, and Bob Gardner will be the emcee. The theme of this year's pageant is "Garden Party."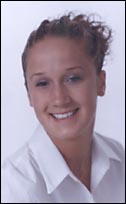 Melissa Bachman is the 16-year-old daughter of Dale and Karen Bachman, has been very involved in track in high school, serving as a captain and participating in the state track and field meet twice in the pole vault. Bachman worked as an assistant track coach for the community education youth program and also participates in the Altitude with Attitude Pole Vault Club.
Bachman also likes to hunt and fish in her free time. She has been involved in student council, National Honor Society, Target Leadership, speech (captain), volleyball, basketball, and band while in high school. She will perform a saxophone solo for her talent.
Bachman has also been involved in St. Louis Catholic Church as a lector, earned the Silver Award in Girl Scouts and was a youth representative on the Chamber of Commerce board.
Bachman will be a senior in the fall. She is sponsored by the Paynesville Area Health Care System.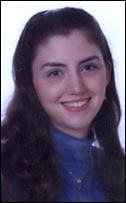 Wendy Bennett, the 17-year-old daughter of Mike and Deb Bennett, is interested in dance, citing ballet as one of her favorite hobbies. She has also been involved in the danceline team at school for two years. Her talent will be a ballet performance.
Bennett enjoys reading in her free time, as well as participating in activities such as Girl Scouts, where she earned the Silver award, and band, where she received two state superior ratings at solo-ensemble contest. She also participated in marching band as a member of the color guard.
In addition, she has served as a peer mentor, peer tutor, vice president of FLA, National Honor Society Member, and was selected to attend SESEM at the University of Minnesota.
Bennett will be a senior in the fall. She is sponsored by Dr. Donald Millner Dental Clinic.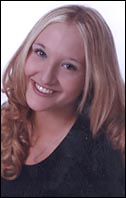 Naomi Bork, the 17-year-old daughter of Bruce and Elaine Bork, enjoys community work, volunteering as a Sunday school teacher at Paynesville Lutheran Church and as a disc jockey and concessions worker at Activities Alive. Some of her favorite things to do are working with kids at Punkin Patch Daycare and meeting people through work. Bork also enjoys attending Vikings and Twins games and spending time with friends.
Some of her school activities include: student council, speech, danceline, varsity wrestling cheerleader, band, and marching band. In speech, she earned awards at each meet, while in band, she earned the superior award at solo-ensemble contest.
Bork is sponsored by Community First National Bank and will perform a dramatic reading as her talent. She will be a senior in the fall.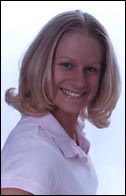 Kelli Fenske, the 17-year-old daughter of Todd and Sandra Fenske, enjoys being active, as a member of the cross country, gymnastics, and track teams at PAHS. She was voted hardest worker on the gymnastics team for the 2000-2001 season. In her free time, she enjoys rollerblading, running, gymnastics, and being with friends and family.
Fenske has also been very involved in church activities at Crystal Hills Assembly. She has been a member of the church youth group, a worker in the church nursery and a vacation Bible school worker. She has volunteered at the Good Samaritan Care Center and taught Community Ed. activities as well.
She has been active in band and marching band and earned a state superior rating at solo-ensemble contest. Fenske will perform a flute solo for her talent.
Fenske, who will be a senior in the fall, is sponsored by the Paynesville Dairy Queen.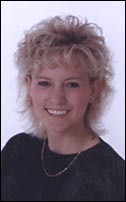 Erin O'Fallon, the 18-year-old daughter of Jim and Gretchen O'Fallon, is the recipient of the Lions' Service Award for her contribution to the community. She has served as a religion teacher, nursery worker, and confirmation mentor at St. Louis Catholic Church. O'Fallon has also been a role model for younger students through programs such as DARE, Target Leadership, and Pals.
She participates in varsity golf, band, marching band, choir, and pops choir. She was a member of a French horn ensemble which was awarded "Best of the Night" at band solo-ensemble contest. Her talent will be a French horn solo.
O'Fallon was chosen as the most likeable in the senior class hall of fame, and enjoys shopping and baking in her free time. She will attend St. Cloud State University in the fall to major in elementary education.
She is sponsored by Wishin' Well Cafe and Floral.
---
Contact the author at paypress@lkdllink.net • Return to News Menu
Home | Marketplace | Community
---