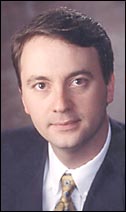 Scott Fischbach of Paynesville will be the next executive director of the Minnesota Concerned Citizens for Life (MCCL), the state's largest pro-life organization. Fischbach will replace Jackie Schwietz, the well-known leader of the group for the past 15 years.

Fischbach, 35, grew up in Paynesville and started in the anti-abortion movement while still in high school. Through his involvement in St. Louis Catholic Church, he joined the local MCCL chapter.

A 1984 graduate of Paynesville High School, Fischbach has worked in Washington, D.C., has run for political office himself, and has worked as a national political consultant. He also served as field director for the National Right to Life Committee, was an intern with the U.S. Catholic Conference of Bishops, and was a field director for former U.S. Senator Rudy Boschwitz.

"Scott is the perfect fit to replace Jackie for the MCCL executive director position," said MCCL president Leo LaLande in a news release. "Scott knows how the political process works, he knows Minnesota politics, and he knows the pro-life movement from both a state and national level."

Rosemary Dilley Ð the president of the local MCCL chapter and a local member for 30 years Ð is proud that a Paynesville native will soon lead the state pro-life organization. "He's going to be a good leader," she explained. "He's experienced in the political process. He knows the subject, and he's not afraid to speak out. He's going to be every bit as good as Jackie."

"I think it speaks well of our community that somebody from Paynesville can become so important," Dilley added.

Fischbach works around the country as a political consultant. "I've always supported and worked for pro-life candidates, whether they are Democrat or Republican," he said.

Fischbach lives in Paynesville with his wife, Michelle, who represents District 14 in the Minnesota Senate, and their two kids. Sen. Michelle Fischbach has supported pro-life measures in the Legislature, including a provision last year on a woman's right to know, which was vetoed by Gov. Jesse Ventura.

Michelle's mother is an assistant director of the National Right to Life Committee. "Really, on both sides of our family, we've been committed to this issue for a number of years," said Scott Fischbach.

Fischbach starts with the MCCL on Nov. 1, and Schwietz will retire on Dec. 1. Fischbach will have a month to work with Schwietz as a transition period. He plans to commute and telecommute to the MCCL's Minneapolis office.

Fischbach's goals for the MCCL are to increase its chapters (it currently has 225 around the state), to increase its membership (currently at 65,000), and to increase its donor base. "It takes money to get our message out there," he said.
---
Contact the author at paypress@lkdllink.net • Return to News Menu
Home | Marketplace | Community
---