Koshiols selected to serve as parade grand marshals
This article submitted by Linda Stelling on 6/9/98.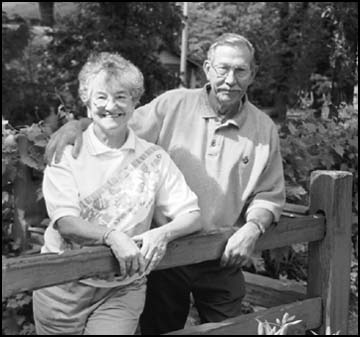 Milt and Rosemary Koshiol were selected this year to serve as Paynesville Town and Country Days Parade Grand Marshals.

The couple was pleased and surprised to have been chosen for the honor.

Rosemary, 72, is a native of Paynesville and has lived here most of her life. The couple was married in 1947 in St. Cloud and moved to Paynesville in 1949. Charles Zapf, Rosemaryís father, needed someone to help out at the store...Zapf Leather.

ďMilt started working for dad and eventually bought the store,Ē Rosemary said. In 1990, the couple sold the store to their son, Chuck. During Milt and Rosemaryís ownership, they purchased the former Knutson Hardware building and doubled the space of the store.

Milt, 73, has served as a volunteer fireman 32 years and served as the department secretary-treasurer between 13 and 15 years.

A veteran of World War II and the Battle of the Bulge, Milt jokes he was a prisoner of war for one month. He is a former Paynesville VFW commander and still is a Paynesville American Legion member. In the 1950s, Milt was a member of the VFW color guard and then switched to the Legion when the organizations combined.

Milt has taught firearm youth training since 1956 and still helps out when needed today. In March of 1989 he received a certificate of commendation from Governor Rudy Perpich for his many years of service. His son, Tom, also teaches firearm safety.

Milt has been a member of the Koronis Hills Golf Course since 1950 and is still a league member. He is also a member of the Knights of Columbus, American Prisoners of War and 4th Armor Division, the Paynesville Sportsmenís Club where he has helped with the rough fish removal from the carp trap, helped with stocking game fish and seining fishs for the fish fry. He also helped start their annual fish fry and gift giveaways. He has helped on various fund raising committees for St. Louis Catholic Church, Paynesvile Area Health Care System and Koronis Hills Golf Course.

Rosemary, a retired nurse, has played the organ at St. Louis Catholic Church for many years and helped organize the kidís choir. She is a former Girl Scout and Cub Scout leader, band mother and still volunteers at the Good Samaritan Care Center and Koronis Manor. Rosemary is also a Legion Auxiliary member where she plays the piano at meetings, is a member of the historical society where she helps narrate the history to visitors at the museum. She served on the all-school reunion committee and served as a narrator on the tour bus.

Rosemary is an avid gardener and enjoys crocheting in her free time.

Both Milt and Rosemary volunteer their time at the Paynesville Historical museum. They donated their collection of Indian artifacts to the museum.

They enjoy downhill skiing in the mountains of Colorado.

The couple has six children: Chuck, Paynesville; Margaret, St. Cloud; Tom, Paynesville; Karen, Arizona; Jeannie, Eagan; and Donnie, Brooklyn Center. They have nine grandchildren.
---