Local square dancers are co-chairing convention
This article submitted by Linda Stelling on 6/9/99.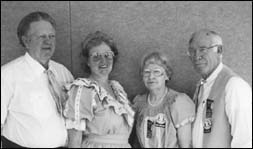 Residents of Paynesville and Brainerd have strolled into leadership rolls for the 48th Annual Square and Round Dance Convention on June 11 to 13 at the St. Cloud Civic Center.

Nearly 1,500 dancers from a five-state area (North and South Dakota, Iowa, Wisconsin, and Minnesota), and Canada will gather for this annual event sponsored by the Square Dance Federation of Minnesota, Inc. Chairpersons for the convention are Arlene and Jim McCalmant (far right), Paynesville, and Helene and Vern Bement (left), Brainerd, members of the Central West Region of the Square Dance Federation of Minnesota. There are 16 clubs in this region.

McCalmants are members of the Koronis Nite Owls. Local club members will be serving as host and hostesses of different events at the convention.

The slogan for the convention is "Dancing on a Cloud in St. Cloud."

The featured national caller for the convention will be Jerry Junck, Wayne, Neb., and Mesa, Ariz. Featured round dance leaders will be Ron and Donna Baba, Winnipeg, Manitoba, Canada.

The Koronis Nite Owls Square Dance Club has about 70 members. They dance on the second and fourth Saturday night, September through May at the Paynesville Area Elementary School.

Officers of the Koronis Nite Owls are: presidents, Roger and Julie Schackmann, Richmond; vice-presidents, Joe and Joyce Ludwig, Richmond; secretary, LaVern and Darlene Ludwig; Richmond; treasurer, Norb and Arlene Lahr, Watkins; reporters, Bob and Corrin Hallquist, Dassel; and historians, Harold and Jane Vossen, Watkins.

For more information about the convention or about the Koronis Nite Owls, contact Jim McCalmant, 320-243-5057.
---