Severe weather destroys a barn on Rien farm
This article submitted by Aaron Ziemer on 6/9/99.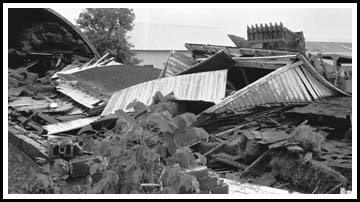 Larry and Denise Rien lost one of their barns during the severe weather on Saturday morning at about 3:30 a.m.

The storm destroyed the family's barn where they hold the young stock. The barn was located on the property where Chad Rien now lives, not on the property where Larry and Denise reside.

The Riens lost nine of the 37 cattle that were in the barn. There were also two more that may have to be destroyed, because of serious injuries.

Twenty-two of the cattle escaped the barn before it collapsed. Most of those cattle were okay, and were transferred back to the farm located at Larry and Denise's residence.

"We pulled 15 head out of the barn after it collapsed," said Larry. Not all of the cattle they pulled out were alive though.

There is some speculation the storm may have been a low funnel cloud or a tornado. (A funnel cloud never touches the ground. If it touches the ground it becomes a tornado.)

Some of the other damage may point to this. The destroyed barn collapsed to the east. There was a basketball hoop with over 150 pounds of sand and gravel in it that was picked up and thrown 30 feet to the west. Another shed that was used to hold some equipment had the south wall knocked out. There were also two big trees that were standing very near each other that were pushed in opposite directions.

A silo and another building standing right next to each other had opposite ends of the roof damaged. This may be the most compelling evidence that the storm was not a straight-line wind.

The storm moved in quickly and left just about as quick, but it was very intense during the short time it hit the area.

"The whole house shook, and it was very loud," said Chad.

Chad also added that since everything was so loud he didn't hear the barn collapse, because he thought the noise was the thunder and hail.

The storm was also felt at Larry and Denise's home as well.

"The doors were shaking from all the wind," said Denise.

They also had some downed trees and large branches in their yard. The only difference was all the branches and trees were laying the same direction at their house.

The National Weather Service in Chanhassen did not confirm whether the damage came from tornadic winds or just straight-line winds.

They also said that it could have been a down force wind that caused the damage to scatter like it did, but did not rule out the possibility of a small tornado or funnel cloud.
---