American Legion breaks ground for new building
This article submitted by Linda Stelling on 6/9/99.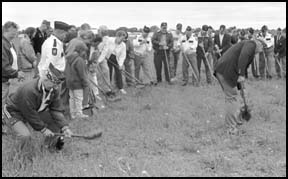 More than 50 members of the Paynesville American Legion and Auxiliary, armed with shovels, were on hand Memorial Day for the ground breaking of their new building. Also on hand for the ground breaking were Representative Doug Stang, Senator Michelle Fischbach, and Paynesville City Council members Jean Soine and Harlan Beek.

The American Legion will be constructing an 80 by 112-foot steel structure on the west edge of Paynesville between Alco Discount Store and Country Inn.

The new structure will consist of a lounge area, formal dining which seats about 65 people, a banquet room with seating for 350, and a full kitchen. The exterior will be wheat straw with hunter green trim.

Estimated cost of the new structure is about $450,000, which includes new furnishings and a paved parking lot with about 140 spaces.

The Paynesville American Legion post started contemplating the possibility of a new facility about five years ago. However, they were told they could not use any of their gambling funds toward its erection. The funds could only be used toward renovating the old structure, making it handicap accessible.

Representative Doug Stang and Senator Michelle Fischbach carried a bill through the Legislature in 1998 which enables the Legion to use charitable gambling profits from pull tabs and bingo ($87,000), to either improve handicap accessibility or to replace an out-of-compliance facility with a new one that satisfies American Disabilities Act standards.

"The passage of the law was a giant step forward for the Paynesville American Legion," Joe Kremer, former commander, said.

Kremer said their present building is for sale.

Members of the building committee are: Kremer, Jerry Thomes, Neil Fischer, Dave Brinkman, Mel Schaefer, Harold Morris, Cyril Kascht, Loren Meyer, Jerry Mehr, Wes Nehring, Leroy Mackedanz, and Pete Hoppe.
---