Arts council seeking identity
This article submitted by Linda Stelling on 6/9/99.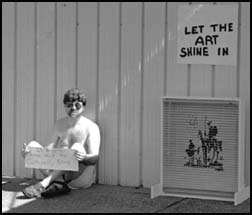 A beggar, complete with traditional garb and bowl, was sighted on a street corner of downtown Paynesville early Saturday morning. He wasn't looking for handouts, although several people offered. He was part of a small group looking for an identity.

Members of the Paynesville area are interested in forming an arts council to raise awareness of local art oppor-tunities, find and encourage artists of all types, and to help create places where local artists can show their work.

This group was founded after a request was made of Paynesville Mayor Jeff Thompson for information concerning where this constituent could go to find local artist groups. When he couldn't readily answer that question, he and his wife Becky placed an invitation in the Paynesville Press asking for help. The group which resulted is asking for community help in naming this proposed arts council.

A $100 prize has been offered for the person who contributes the best name. Entry forms will be available at all three of Paynesville's financial institutions, and there will be a traveling display at the Miss Paynesville Pageant on June 14.

Entries will be accepted until June 30. The name should represent an area between Cold Spring and Spicer and between Sauk Centre and Litchfield. Make up names or a composite of names (example, RoCoRi) are encouraged. The winner will be announced July 14.
---