Zion-Irving Lutheran Church will celebrate its centennial this weekend on Saturday night and Sunday morning and afternoon. The church - founded in 1905 - will offer several public events to mark its 100 years of existence.

On Saturday night, the church will hold a songfest (followed by cookies and coffee) for the past and current members and the public starting at 7 p.m.

On Sunday morning, the church will have its regular worship service for past and current members followed by a lunch. The public is invited to come at 12:30 p.m. to hear live music and then to stay for the centennial program at 1:30 p.m. (followed by cake and coffee).

Church members - who have worked for a year in preparation of their centennial - will be selling commemorative plates, ornaments, cookbooks, and history books.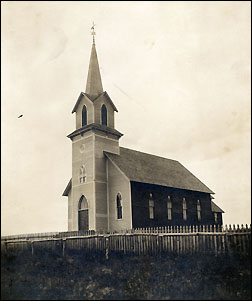 Zion-Irving Lutheran Church was founded in 1905 when a minority from nearby Nordland Lutheran Church decided to leave. That decision was made following a fire at Nordland, but, according to the 200-page church history book prepared for the Zion-Irving centennial by Jay Liedman, the real reason for the split was Nordland's leaving the United Lutheran Church. The minority that founded Zion-Irving did not see themselves as "breaking away" but as "devoted churchmen" returning to the proper church, according to the history.
Zion-Irving Lutheran Church - then known as Zion Norsk Luthersk Menighed - as it appeared in 1905, when the church was founded. The fence in front of the church also served as a rail for tying horses.
The church's original name was Zion Norsk Luthersk Menighed, or Zion Norwegian Lutheran Church.
The church building was erected in 1905, with Torger Ditmarsen as the architect, the same job he had once done for Nordland.
Through most of its history, Zion-Irving has shared pastors with various parishes, including a cooperative stint with Nordland in the 1960s and 1970s. Since 1976, Zion-Irving has shared a paster with Harrison Ccommunity Presbyterian Church, though it is currently between pasters.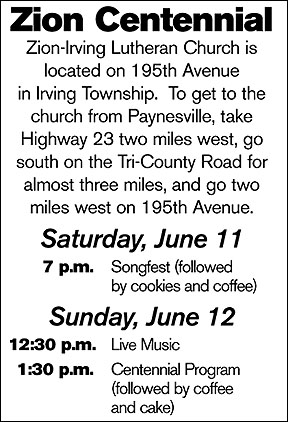 At present, the parish is being served by lay ministers Gordon Pennertz of Litchfield (on the first and third Sundays) and Marlys Pearson of Paynesville (on the second and fourth Sundays).
Other notable events in the church's history include:
*Ladies Aid purchases altar and altar painting for church in 1906. The Busy Bees, a girls' society, furnishes the baptismal font. (An antique quilt from the Busy Bees will be on display at the centennial.)
*First confirmation class in 1906.
*Basement added in 1915. (The basement was dug under the existing church with shovels, using horse teams to remove the dirt.)
*First English church service in 1923. (By 1925, a third of the services were in English with two-thirds still in Norwegian.)
*First American-born pastor (Truman Tysdal) starts serving Zion-Irving in 1929.
*Church purchases an electric organ in 1953.
*Church celebrates 50th anniversary in August 1955.
*Bathrooms/plumbing added to the church in the early 1960s.
*Merger with Nordland rejected by Zion parishioners in 1976; church begins sharing ministers with Harrison Ccommunity Presbyter-ian Church.
*75th anniversary held in 1980.
*Narthex added around 1990.
The church is small, noted members of the centennial committee, but it is full of love. "I think it's because we're small enough that we're one family," said committee member Carol Jones.
"I did feel like family when I walked in the door. It's our church family," said Lorie Gehrt, another committee member who joined Zion-Irving Lutheran four years ago. Zion-Irving is small enough that "you don't get lost in the flock," added Gehrt.
Zion-Irving is small enough that every family has a certain pew where they normally sit. "When I look out and see someone in a different place, it really throws me," said organist Karin Johnson.
Zion-Irving is small enough that the whole parish knows when you are not in church. "If you miss too many Sundays, someone will call to see if you are sick or if you are OK," said Arlene Wisted, another centennial committee member.
Zion-Irving is small enough that it can be hard to get out of a job. "Once you get a job in this church, you never lose it," said Wisted, the church's treasurer since 1989.
Zion-Irving is small enough that any newcomer is a curiosity and greeted with great enthusiasm, the centennial committee agreed, and the church is eager to greet the public for their centennial celebration this weekend.
Other members of the centennial committee are Jane Herem, church secretary Angie Jones, Jay Liedman, Carol Otteson, Cheryl Prentice, Kim Prentice, Bob Salonek, and Hazel Vegdahl.
---
Contact the author at editor@paynesvillepress.com • Return to News Menu
Home | Marketplace | Community
---