In 34 years of teaching at Paynes-ville Area Elementary School, Nancy Alstead always taught first grade and always had the same classroom.

The reason she always had the same room - the first room to the left when entering on the east end of the elementary school - is that no one ever asked her to move, she said. The reason she has always taught first grade, she said, is because she loved it.

First graders are innocent, believing, eager, and enthusiastic, Alstead explained. They love school, everything about it, including their teacher. Her kids were so wonderful, she said, that teaching didn't seem like a job.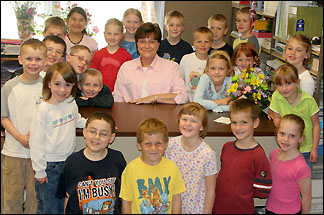 After graduating from St. Cloud State University, she picked a job in Paynesville over offers from St. Cloud and Willmar. A native of Atwater, she liked small towns and therefore chose Paynesville.
Nancy Alstead - pictured with her final class - has retired after 34 years of teaching first grade at Paynesville Area Elementary School.
What she liked best about teaching first grade was seeing her students grow, especially in reading and language skills, over the course of the school year, she said. Students learn and grow each year, of course, but she thinks a big difference can be seen from the start of the first day to the last in first grade.
Of course, learning the English language involves some trial and error. Through the years, Alstead kept a journal of funny sayings by her first grade students. Bloopers, you might say, from six-year-olds still trying to master a complex language. Here are a few:
The Cat in the Hat, by Dr. Goose.
My Grandma knitted me an African.
We all got wet, but I was the soakeness.
Do you know what I hate best? Squash!
We are all God's little Barbie dolls.
When I went down the slide, it was slickery.
Guess what? I was born on my birthday!
Aldasun (student spelling of all of a sudden)
It happened two yesterdays ago.
My foot hit him by accident.
I have a hard time rememberizing.
I had ear affection last night.
I'm in first grade this year, and next year when I'm a senior I get a car.
Though she still loves her students and enjoyed her job, Alstead felt it was time to retire for several reasons. First, she met the rule of 90. Next, she did not want to teach with a class of 25, as is proposed next year in first grade at PAES. And last, while teaching a second generation of students from a family was fun, Alstead said she wanted to retire before a third generation comes along.
What she will miss most from teaching are the kids and the staff at the elementary school, which felt like a second family to her. What she won't miss are the paperwork and the stress.
Big changes in the first-grade classroom since Alstead started teaching include: computers (now first graders learn keyboarding skills); the curriculum (which keeps advancing); and attitudes towards others (there's less respect in this busy, busy world even though Paynesville still has great, hardworking families).
Seeing the students leave on the last day of school (Friday, May 27) was hard, said Alstead. Cleaning her classroom and sorting stuff after 34 years over the Memorial Day weekend was time-consuming. And it was hard to turn her keys into the office on Tuesday, May 31, her last day of work.
"On Friday, it was awful saying goodbye (to the students) and on Tuesday (to the staff)," she said. "Walking out the door for the last time was hard. You want to retire, but getting there is hard. Saying all the goodbyes is hard."
Alstead has no immediate plans to work in her retirement, though she plans to consider her options. She likes to travel, to spend time with family and friends, to tend her flower garden, and to attend plays. If she travels with everyone who has asked her, she said, she'll never be home. She does plan to stay living in Paynesville, where she can still keep an eye on her old classroom from across the elementary playground.
Also retiring from the elementary school this spring were third grade teacher Ann Lundgren (35 years) and second grade teacher Margaret McLaughlin (19 years).
---
Contact the author at editor@paynesvillepress.com • Return to News Menu
Home | Marketplace | Community
---