While playing in a polka band with his brothers as he grew up, Father Aloysius Blonigen dreamed of studying music in New York. Yet this St. Martin native said he also felt a calling to be a missionary priest "inside of me since I was an altar server."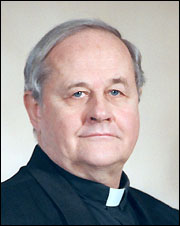 Serving in the Mariannhill Mission Society - for 50 years, including 40 years as a priest - has allowed him to accomplish both of these dreams.
Father Aloysius Blonigen will celebrate the 40th anniversary of his ordination as a priest on Sunday, June 12, at the 10:30 a.m. mass at St. Louis Catholic Church in Paynesville.
His dream to serve the church was the one he chose to pursue first, joining the order in 1955 and becoming a priest in 1965.
On Sunday, June 12, Father Blonigen will celebrate the 40th anniversary of his ordination as he presides over the 10:30 mass at St. Louis Catholic Church. The mass will include two of his own musical compositions, and a noon dinner and program will follow, including a short DVD of his life.
Growing up around the many priests, brothers, and nuns in St. Martin inspired him to dedicate his life to God, he said, and he knew that if he became a priest, he would also be a missionary. As a child, he donated pennies to a fund for babies in Africa and resolved to serve the need there.
Before he could, though, this farmboy lived on the family land southwest of St. Martin until age 20 while earning his high school diploma through correspondence.
Father Blonigen then joined the Mariannhill Mission Society, which was founded in Africa and has most of its evangelistic members there, leaving Zion Township in 1955 to attend a seminary in Detroit, Mich.
Travel overseas was next, but not to Africa as a missionary. Instead, he went to Germany for four years to continue his studies in philosophy.
Four additional years studying theology in Indiana prepared Father Blonigen for his ordination in St. Cloud in June 1965 and for his first mass the following Sunday in St. Martin.
Due to back problems from farm work, the newly ordained priest could not travel to Africa, so he was an assistant pastor at a parish in New York. While there, he reached the goal he had given up in favor of priesthood by studying music, earning a degree in music education.
He put it to use teaching in Ohio for seven years before moving to Michigan in 1974, where he spent time as an associate pastor, vocation director, and presenter at marriage enrichment weekends.
Father Blonigen happily realized in 1984 that "every time I gave something up, I got it back." In that year, another dream came true when he left the country to spend a year as a missionary in South Africa and Zimbabwe. Though serving as a missionary overseas had been a reason that he joined the priesthood, the opportunity to do so took so long in coming that he had started to doubt whether he'd ever get the chance to serve in Africa.
Since then, he has studied in Indiana again, spent two more years in South Africa, served as head of the U.S. and Canadian branch of his order, and continued his duties to those exploring vocations in Michigan.
He currently resides in Dearborn Heights, Mich., and travels around the country working with married couples.
Reflecting on his experiences, a grateful Father Blonigen appreciates the many ways he has experienced the power of God, noting that "all my dreams have been fulfilled and more."
---
Contact the author at editor@paynesvillepress.com • Return to News Menu
Home | Marketplace | Community
---