This past weekend, 116 fisherwomen were in Paynesville for the Women Anglers of Minnesota fishing tournament. This, the 29th annual tournament, was a fundraiser for the organization, which educates women and children on fishing and brings women together in a fun, supportive community.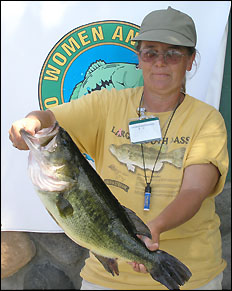 Julie Lane, the vice president and tournament director, believes that is the best part of the organization, which she affectionately calls WAM. "The camaraderie is what brings most of us back year after year," she explained.
Sharon Kitterman, of Max, Minn., holds her 5.65-pound largemouth bass, which took top honors in the bass category on Saturday.
Open to women 16 and older, regardless of skill level, Lane said that each year's tournament attracts women who come nine days early to pre-fish the lake and women who show up the night before and may have never fished.
Lane, who said that fish are located in different places at different hours, pre-fishes at 5:30 a.m. to get ready. Other anglers in the tournament have started to do, as well, she added.
Friday, before a regular WAM meeting and a pre-tournament meeting, five seminars were held that taught women techniques to keep bait alive, to back trailers, and to perform other fishing-related endeavors.
Tournament day was Saturday, with the women fishing between 5:30 a.m. and 2 p.m. The weekend also included a banquet, where trophies, cash, and prizes honored winners in five categories - bass, northern, walleye, sunfish, and crappie - as well as multi-species winners and a grand prize winner.
The $2,000 grand prize can be won by a fish from any category, since it is based on a point system that takes into account the average weight of each fish type.
All WAM members - approximately 150 women ages 18 and older - can vote on the lake the tournament is held at, after the lake committee decides which Minnesota lakes match the needs of the event.
"Everybody has been so excited about Paynesville," Lane noted, explaining that the businesses and community organizations have been very welcoming. She estimates that the group and its members spend $30,000 in the community over the four-day weekend.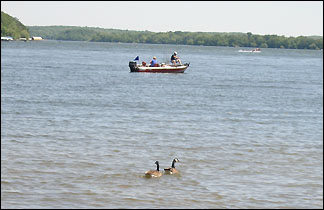 WAM, which began in 1977, shows women that they "can fish just as easily as men, and they should," said Lane. Besides the tournament, the organization has fishing trips and events, many of which focus on children. Both boys and girls participate in these activities, explained Lane, though the organization is for women. Fishing is a "forever hobby," she said, adding that they teach the kids everything from putting line on a rod and casting it to taking care of bait.
The Women Anglers of Minnesota held their 29th annual tournament on Lake Koronis on Saturday with 116 anglers, in 45 boats, competing.
One focus of the organization is respect for the fish they catch. The tournament is catch-and-release, and they have a 99 percent return rate. Any fish that die, as well as rock bass that are caught, are frozen and given to the raptor center, if the women who caught them do not keep them.
Lane, who did fish in the tournament, estimates that she spent over two hours planning for it each day over the past two months. She and her 15-member tournament committee find sponsors, plan the events, and oversee other logistics.
She has been in the organization eight years, and is a native of Avon, though she now lives in Mora. "WAM is my passion," she said, and it suits her well, because she fishes every day of the year, including holidays. In fact, she said she parks on the lake after work in the winter and lives in her fish house.
However, participants do not need to be avid fisherwomen, she emphasized. Often the unexperienced anglers get lucky and win the big prizes. Beyond that, much of the focus is the community of women anglers. Each boat is required to have at least two people in it, and there are often three generations from one family fishing together.
2006 Women Anglers of Minnesota Tourney Results
Grand Prize Winner
Sherry Pearson, Cambridge, walleye (23 3/4", 4.11 pounds)
Bass
Sharon Kitterman, Max, 5.65 pounds
Julie Skochenski, Lino Lakes, 4.20 pounds
Georgia Stinson, Ramsey, 3.32 pounds
Northern Pike
Leslie George, Spicer, 5.43 pounds
Mary Keil, West St. Paul, 5.40 pounds
Sara Sumner, Bloomington, 5.25 pounds
Walleye
Julie Huewe, Elk River, 2.18 pounds
Annette Kirschbaum, Ramsey, 1.96 pounds
Sherry Pearson, Cambridge, 1.93 pounds
Crappie
Julie Lane, Mora, 0.67 pounds
Gerry Pridgen, Des Moines, 0.67 pounds
Julie Stace, Mora, 0.65 pounds
Sunfish
Sandy Broehl, Mora, 0.66 pounds
Sherry Pearson, Cambridge, 0.64 pounds
Debbie Samuelson, Clear Lake, 0.64 pounds
Multi-Species (Best 3 of 5)
Sharon Kitterman, Max, Minn.
Julie Skochenski, Lino Lakes, Minn.
Mary Keil, West St. Paul, Minn.
Rock Bass Fun Tournament
Mindy Urbanski, Elk River, 1.06 pounds
Laura Sumner, Bloomington, 1.02 pounds
Sara Sumner, Bloomington, 1.00 pounds
---
Contact the author at editor@paynesvillepress.com • Return to News Menu
Home | Marketplace | Community
---