Ninety-five seniors in the Class of 2006 at Paynesville Area High School graduated on Sunday afternoon during commencement exercises at Paynesville Area High School.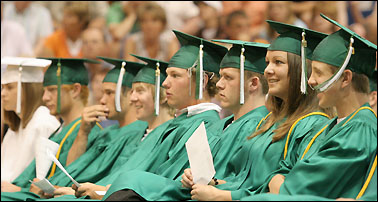 Senior addresses were given by Breana Kochman and Megan Reeck. Both recalled lighter moments from the Class of 2006's 13 years of schooling in the district, as well as issuing thanks and offering words of advice for the future.
Kochman urged her classmates to embrace the challenges as they embarked on their future paths. Quoting an anonymous "wise man," she told the class: "If you can dream it, you can do it."
Seniors Cody Block, Katie Bertram, Michael Berry, Ross Barten, Michael Barney, Aaron Braun, Mark Andrie, and Girls Stater Marissa Mackedanz listen to a speech at the graduation ceremony on Sunday afternoon in the PAHS gymnasium.
Reeck, in the farewell address, said graduation was something that she and her classmates had been anticipating since kindergarten. "Here it is finally," she said. "And look how far we've come."
Among the lessons that she took from PAHS, she said, the #1 lesson was that "it's only fun if both people are having fun," a frequent saying of former principal John Janotta.
Superintendent Todd Burlingame also addressed the seniors and the parents, family, and friends in the high school gym on Sunday. He urged them to be lifelong learners and to lead life with a purpose.
The Class of 2006 had 40 honor students, who wore gold cords to signify their academic success at the commencement ceremony.
Graduating Summa Cum Laude (a grade point average (GPA) of 3.8 or better) were: Mark Andrie, Shawn Buermann, Ashley Frank, Allyson Klenke, Kochman, Jessica Lahr, Mitchell Mueller, Reeck, Katie Schlick, Stacy Thomsen, and Laura Weidner.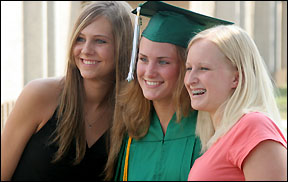 Graduating Magna Cum Laude (GPA between 3.5 and 3.8) were: Kelly Herzberg, Sheena Hoekstra, Amber Jensen, Stephen Lenzmeier, Lynn Lieser, Kayla Nelson, Kristin Nietfeld, Lindsey Pelton, Gregory Price, and Tanya Whitcomb.
Senior Kristin Nietfeld (center) posed for a picture with counsins Carrie Nietfeld (left) and Karla Schaefer (right) after the graduation ceremony.
Graduating Cum Laude (GPA between 3.0 and 3.5) were: Kathryn Bertram, Cody Block, Justin Bork, Thomas Chevalier, Amanda Halvorson, Trent Hansen, Keith Klein, Jessica Kotten, Caitlin Lien, Ashley Lieser, LeAnn Nepsund, James Paul, Brooke Schmitz, Jessica Sheets, Amanda Skalicky, Lauren Vaske, Chad Vossen, Tyler Wendroth, and Lindsey Wyffels.
Twenty-six of these honor students also have been inducted into the PAHS chapter of the National Honor Society, recognizing scholarship, service, character, and leadership. They are: Andrie, Buermann, Frank, Herzberg, Hoekstra, Jensen, Klenke, Kochmann, Lahr, Lenzmeier, Ashley Lieser, Lynn Lieser, Mueller, Nelson, Nepsund, Nietfeld, Paul, Pelton, Reeck, Schlick, Sheets, Skalicky, Thomsen, Vaske, Weidner, and Whitcomb.
---
Contact the author at editor@paynesvillepress.com • Return to News Menu
Home | Marketplace | Community
---