In December 2004, Chris Quale received the discomforting diagnosis of ovarian cancer. She did not want it to end her dearly-loved teaching career.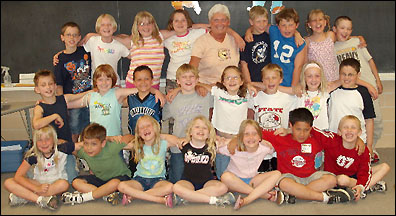 Before being told the news, Quale left her second grade classroom at Paynesville Area Elementary School that Friday afternoon "with every intention of being back on Monday," she said. "I didn't make it back."
Chris Quale of New London, pictured with her second grade class at PAES, retired this year after 20 years in the same classroom. Quale fought ovarian cancer in 2004-05 and returend for her final year.
Quale left for the rest of the school year in 2004-05 but fought cancer to return this past fall and finished her teaching career this year after 20 years in the same classroom.
Five days after her diagnosis, Quale was prepped for surgery at the Mayo Clinic in Rochester to have the tumor removed by a specialist, as urged by her doctor, who told Quale that if it were his wife or mother, he would have offered the same advice.
That advice may have saved Quale's life. She is presently in remission and said her health is good. Quale said that her last day with students (Wednesday, May 31) and the day after were the reasons why she came back to the classroom, rather than retiring immediately following her diagnosis.
On Thursday, the school held a teacher workshop, which allowed Quale to spend cherished moments with a staff she had grown to know so well over the years. It was also her time to sort through two decades of memories with a final view from behind her desk in an empty and quiet classroom.
During her time away from school in 2004-05, Quale said she received an outpouring of compassion from the staff at PAES as well as parents of students, who offered encouraging thoughts in the cards they sent and warm wishes over the telephone. Special education teacher Jane Hjelle, a longtime friend and Quale's carpool partner for 20 years, delivered meals, which were prepared by students, parents, and staff members, to Quale's home each week for the remainder of the school year. The support she received during those tough times kept Quale even more connected to her home away from home, she said.
Quale said she distinctly made the choice to return for one more year at PAES so she could give "an even 20 [years] and a proper goodbye," asserting, 'I wanted to go out on my terms and not cancers.' "
Teary-eyed, she noted, "I will miss my kids," meaning her students, as well as her work-family. But she followed these sentiments with the enthusiasm of not missing her alarm clock at 5:15 a.m. each morning.
Quale said of becoming a teacher: "I don't ever remember considering anything else," adding that there was not one grand moment toward her decision and that teaching the second grade always seemed ideal. She also said she went into teaching because of her love for children and that it has been a good job for a mom, as it allowed her to spend summer days with her three sons.
A highlight from her career has been reading "Charlotte's Web" aloud to her students the first month into the school year, which Quale said she has done 20 times. It is the first time the children read a chapter book in school, and it has meant a lot to her to have been a part of that.
She also has collected a host of cards, notes, and letters from students over the years, which now serve to remind Quale of the impact she had on children's lives. This year, Quale was honored with a chance to teach the second generation of a past student for the first time in her career.
She said the blended experience of surviving cancer and ending her career has been one filled with "lots of tears."
Last Wednesday, Quale assured her students that they were tears of joy for gratefulness realized and memories treasured. Quale told her class to write her letters over the summer and that she would write back. She said she has already received one from a student sharing, "I miss you already Mrs. Quale."
Quale said that her work was most inspired by her husband, Mark, as his support has been the cornerstone for her cancer fight. "My husband has an uncanny ability to encourage, to listen, to cheer," she said, adding that he is everything a partner should be.
Quale and her husband were high school sweethearts and dated throughout college, in which they both studied to become teachers.
Quale received her teaching degree in elementary education - with a minor in special education - from St. Cloud State in 1973 and was married the same year. She and her husband moved to Slayton, where Mark was offered a full-time teaching and coaching position at the high school. Since spouses were not permitted to teach in the same school during that time, Quale accepted a position as a kindergarten teacher's aide.
She stopped teaching full-time for 11 years to become a stay-at-home mom, yet continued as a substitute for grades K-12. The Quale family moved to New London in 1984, followed by a decision Quale made to go back to school for her kindergarten endorsement.
Quale was then offered a long-term substitute position at PAES, in which she taught pre-school special needs. Immediately following, another long-term substitute position allowed Quale to teach kindergarten at PAES. "I happened to be at the right place at the right time," she said. In 1986, she was offered a full-time teaching position at PAES for the second grade and said she has been in the same classroom with second graders ever since.
In her retirement, Quale said she plans to travel with her husband, spend time at the lake, and become a first-time, full-time grandmother this July. When school begins this fall, she and her husband will be traveling throughout Great Britain and Italy, which Quale said will certainly help take her mind off the classroom. They also have made plans to return to Santorini, Greece, where they passed through on a Mediterranean cruise last year in celebration of Quale's completing chemotherapy.
As a teacher, Mrs. Quale positively changed the lives of many PAES second graders in Room 117 over the course of 20 years, and she concluded, "They've changed my life too."
---
Contact the author at editor@paynesvillepress.com • Return to News Menu
Home | Marketplace | Community
---