Long-time lake resident turns 100
This article submitted by Michael Jacobson on 6/7/00.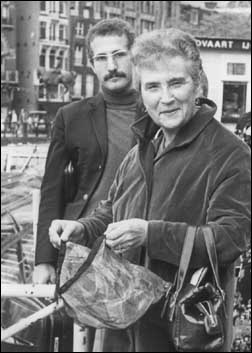 "Imagine that," Olive Jahnke says about her 100th birthday, which she celebrated on May 26. "I never thought I'd be that old. Never, never thought I'd be that old."

In 100 years, life has taken Jahnke from Hayfield to St. Olaf College to Benson to Paynesville to Brainerd to places around the world to, finally, Paynesville again. She was born in Hayfield on May 26, 1900, a time when houses were lit with lamps and horses were the primary mode of transportation. Olive's father owned a general store.

Olive not only went to school, but was the center on her high school girls' basketball team. In those days, the team would take a train to the other towns to play their games.

After graduating in 1918, she followed a family tradition by attending St. Olaf College like her brother before her.

At St. Olaf, she sang all four years in the renowned St. Olaf Choir. Her part was second soprano. The choir toured every year, bringing the girl from the Minnesota prairie to churches, concert halls, and wealthy homes in places such as New York, Boston, Chicago, Los Angeles, and San Francisco. With the choir, Jahnke sang in Carnegie Hall in New York City.

Jahnke said the trips were wonderful and seeing the wealth and splendor of the cities was "exciting, because it was so different. Everything was so big."

Jahnke also had success in the classrooms at St. Olaf. She majored in chemistry and mathematics. After graduating in 1922, she took a teaching job in Benson.

While there, she met a young highway engineer by the name of Hilding Jahnke while dining at the local hotel. One night when it was raining, Hilding offered to drive the teachers home and dropped Olive off last.

Olive was engaged in 1925 and married in 1927. Hilding was a project engineer for the state on old Highway 55. After getting married, they spent their first year living in a construction camp at a resort on Lake Koronis.

Old Highway 55 is now County Road 124. In addition to his duties for the state, Hilding moonlighted by doing survey work for a local landowner. Hilding surveyed many of the lots along County Road 124. Hilding and Olive had a cottage built on a lot on Lake Koronis in 1928, which still is in the family.

Olive lived in Long Prairie for five years while Hilding was the county engineer for Todd County. Then they lived in Brainerd for 20 years while Hilding was the district engineer for the state.

After Hilding died in 1959, Olive resumed working, not content to be a young widow. She took a job as a resident advisor for a sorority at the University of Minnesota for a couple years Then she returned to St. Olaf, where she ran a male residence, Ytterboe Hall, for 10 years.

During this time, Olive started to travel overseas. She visited Europe, Africa, and Asia. She visited her relatives in Norway, where she traveled above the Arctic Circle, and she visited her brother who was a medical missionary in Ethiopia. She went to Iran when it was still called Persia. And she liked India and Japan.

After retiring from St. Olaf, she moved to Anoka for nine years before moving back to Paynesville in 1980. In her later years, she toured the United States extensively by bus and participated in a number of Elderhostels, which offer educational courses to seniors.

Olive was an original resident of 700 Stearns Place, where she resided for 11 years. Last fall, she moved to the Good Samaritan Care Center, which she says is a good place to live, too.

Olive has two daughters, Pat Carlson of Walker and Carol Setterberg, a summer resident of Lake Koronis. They held a birthday party for her at the Paynesville Area Center. The party was limited to family members to accommodate Olive's health.
---