Band will march in new uniforms
This article submitted by Erin Aagesen on 6/7/00.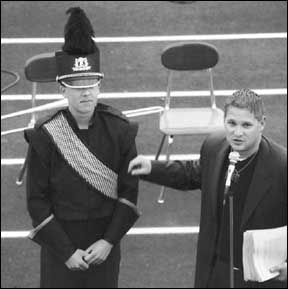 The high school marching band will be marching down the street in new uniforms this summer.

The new, more formal uniforms were recently purchased as replacements for the homemade uniforms used in the past. They are five years old and were acquired from the Phantom Regiment, a drum and bugle corps with whom director Bryan Mara used to play.

Mara had been making plans to purchase new uniforms for the band for the past year.

"The other uniforms looked more like concert band uniforms than marching band uniforms," said Mara. "I felt like the students in general had it in their heads that the uniforms weren't formal enough."

"I think the new uniforms make us look more professional," said drumline member Maria Janotta.

When Mara overheard a conversation last summer by Phantom Regiment members that they were thinking about buying new uniforms, he made it known that he would like to purchase the group's old ones. Because of this, members of the regiment later called him and offered to sell the uniforms.

After some negotiation, a price of $50 per uniform was settled on. According to Mara, the same uniforms would have cost between $300 and $350 when new.

The newly purchased uniforms are lightweight and machine washable. They are black and consist of a one-piece suit covered by a jacket and a sash. The plan is to use the green and white plaid material from the old vests as a sash.

The band program received 110 uniforms, but only had to pay for 100. They also received all the helmets for free. Because the helmets are in poor shape, Mara has since ordered new ones for the band.

The funds for the purchases were acquired from a variety of sources. Money came from the Paynesville Masonic Lodge, private donations, and the school district. The school district is on a six-year cycle, and this was the year the music department was able to make additional purchases. Mara put in his request for the uniforms about a year ago.

However, the new helmets are not entirely paid for yet. Mara hopes that additional donations and parade prize money will cover the costs.

Parents and volunteers will be sewing the sashes on the first day of band camp, Monday, June12, at 8 a.m. in the middle school home economics room. To help, simply show up that day.

Marching band schedule
June 12-14, Spat Camp, 8 a.m. to 8 p.m.
June 14, Benson, 6:30 p.m.
June 17, Buffalo, 6:30 p.m.
June 18, Albert Lea, 2 p.m.
June 22, Milaca, 6:30 p.m.
June 24, Red Wing, 3 p.m.
June 25, Alexandria, 1:30 p.m.
June 28-July 2, Chicago trip
July 4, St. Joseph, 10 a.m.
---