First head of religious education retires
This article submitted by Linda Stelling on 6/07/00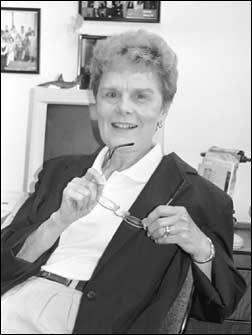 After 30 years of coordinating activities, classes, and curriculum at the St. Louis Catholic Church, Bernadine (Bunny) Fasen will retire at the end of June.

Fasen is the first and, so far, only director of religious education at St. Louis Catholic Church. She started in 1969, after resigning from her teaching position to raise a family. She taught English at Paynesville Area High School for seven years in the early 1960s.

An open house in her honor is being held at the church on Sunday, June 11, from 11:30 a.m. to 2 p.m.

Originally her position consisted of coordinating and helping with the confirmation program and the cere-monies. Her job duties have expanded to finding teachers for religion classes, arranging appropriate classroom space, ordering supplies, teaching confirmation, and coordinating different grade levels.

"Over the years the job has expanded as the priests gave me more responsibility," Fasen said.

Fasen has worked with four different priests over the years: Father Arthur Hoppe, Father Don Reider, Father William Kloeckner and Father Richard Leisen.

"I have taken classes at St. John's University to better prepare me for the work. I felt qualified to do more after the classes," she said.

According to Fasen, being director of religious education is a very rewarding job. Anytime a person does something with the church, they are rewarded in many ways as they see the young people grow, Fasen said.

Early in her career, the church rented rooms at the Paynesville Area Elementary School for religion classes. For 19 years, the elementary students met Wednesdays at the school while the older students met at the church.

After the church was remodeled in 1988, all the classes were moved into the new classrooms at the church.

The remodeling project brought the biggest change to her position. She moved from a small room with no windows at the back of the church to a large office with windows by the front door. "I was in that little office for 17 years," she said. "It's great to see what is happening in the world."

Fasen said they have about 500 children from preschool through 12th grade in their religious education programs.

Two years ago, Laurie Rausch was hired as the youth director at the church, relieving Fasen of some of her responsibilities.

"I have been blessed to find teachers," Fasen said. "I have never started a year without a full staff of religion teachers. I give credit to the Holy Spirit for bringing people forward."

She added that religion teachers are some of the most rewarding and marvelous people to work with. Fasen feels privileged to have been able to get a lot of people involved in all areas of religious education, including vacation Bible school and Christmas programs.

Phyllis Gardner will be replacing Fasen as the new director. She has been teaching religion classes for 15 years. Gardner has also led vacation Bible school programs and codirected the Christmas programs. "I feel she is a very qualified and knowledgeable person," Fasen said.

Gardner will be working with Fasen the last two weeks of the month to learn the responsibilities of her new position.

As director, Fasen said a person wears a lot of hats to cover many areas. "The job requires more time than people realize," she added.

After 30 years in the position, Fasen finds the routine easier. "I'm more comfortable in the job now than 30 years ago," she joked.

"My family has been very supportive of the time I spent at the job. It involved a lot of weekends," Fasen added.

"It will be nice to have her home again," her husband Marv said.
---