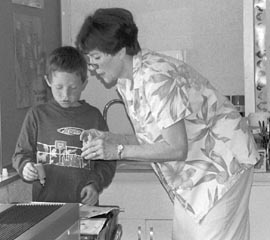 Madonna Leimer will retire this year after what she describes as a "wonderful life" as a teacher. Although Leimer ended up loving her career, much of which was spent in Paynesville, she came into the profession reluctantly.

"When I look back, it's just so easy to see that the Lord got me where I should be," said Leimer, "My mom always said, 'Why don't you try teaching?'"

Madonna Leimer helps second grader Tanner Wendroth with an art project involving laying a piece of paper in a dish of water and paint to create a colored marble effect.

She tried teaching several times before she was convinced that it was the right career for her. At the start of college she wanted to become a nurse. Even after she switched her career goals and graduated with a music education degree, she wasn't confident that she wanted to teach. However, with the support of her family and friends, she got into teaching and soon enjoyed the profession.

She started teaching second grade in Paynesville in 1984, emphasizing hands-on work in her classroom. Within each day, she tried to vary the activities to cater to the different learning styles of her students.

That approach to teaching was shaped by Leimer's own education in a one-room schoolhouse near Agar, S.D. She spent eight years in that school - never with another student in her grade - and credits the one-on-one attention she received there with giving her a thorough education and interest in becoming a teacher.

The one-room schoolhouse was a community atmosphere where younger students learned from older students. The teacher was like a tutor because she gave each student individual attention.

Leimer spent her sophomore and junior years of high school at the public high school in her home town and her freshman and senior years at Mt. Marty, an all-girls Catholic boarding school in Yankton.

The emphasis on academics at Mt. Marty was high, with scheduled study halls in the evenings and an expectation that the students would always do their best work.

She entered Mt. Marty college intending to be a nurse. After her first year, she knew she wouldn't enjoy a life in a lab, so she transferred to SDSU, where she majored in music education and minored in English.

She student taught in Canby, Minn., but did not enjoy it. She liked her subjects, but didn't feel that teaching was for her. "I just didn't feel that teaching was my niche," she explained.

She started teaching at a California air force base, while there with her first husband, Keith Palmer, now deceased.

Leimer was very reluctant to try teaching the fourth grade, but the young couple needed the money, and Palmer coaxed her into taking the position. "I told him, 'I can't do this! I can't teach kids!' but he said, 'Don't worry. If you fail, no one back home will ever know it.'"

With Palmer's support, Leimer accepted the position, and to her surprise, found it to be an exciting, rewarding experience. She was helped by two women, who were also teachers at the base.

"They really made it work for me," said Leimer, "It was great. They took me under their wing. There was always something new to do and a new way to do it."

That experience solidified Leimer's career path. After leaving the military base, she taught high school English and music in Gettysburg, S.D., for four years.

Finally, the couple settled in Paynesville. Leimer held positions in several areas within the Paynesville School District and taught part time in Farming, before she was hired for her current position, as a second grade teacher.

"The thing that I'm most grateful for in my professional career is that I've never not wanted to come to work in the morning," said Leimer. "Sure, I've felt sick, but I've never not wanted to come. I don't think many people in the world get to feel that way."

Leimer taught all the general subjects, but states that she enjoyed teaching art, literature, and writing the best.

In her classroom, she tried to start teaching the students responsibility as well. This emphasis on individual attention could be due, in part, to her background.

Clarice Stumo worked with Leimer for 15 years and observed Leimer's work ethic during that time. "She's very dedicated," said Stumo. "She's always gone the extra mile for the students as well as faculty members."

Stumo said that one thing that Leimer does for the faculty is serve as a mentor for younger teachers. Like the two mentors she had in California, Leimer shares her ideas and procedures that have worked well for her.

"They're really going to miss her," said Stumo, "but we all have to leave one day."

Leimer plans to enjoy her retirement through family, travel, redecorating her home, and possibly taking some classes. Her current husband, Gaile, is also retiring from teaching this fall. The couple has a goal to cover all the bike trails, from top to bottom, in Minnesota.
---
Contact the author at paypress@lkdllink.net • Return to News Menu
Home | Marketplace | Community
---