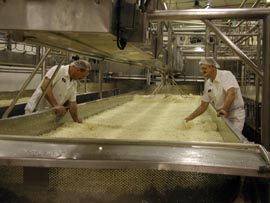 Next week, agriculture will put Paynesville on the map again, as WCCO brings its radio broadcast to a dairy farm north of town. What most present-day citizens of Paynesville might not know, though, is that the dairy industryliterally put Paynesville on the map.

Downtown Paynesville got its location from a creamery that was built along the Soo Line in 1901. At that time, the main settlements in the Paynesville area were further west along the Crow River and north of the river by the Great Northern rail line.

Dan Stanger (left) and Gerritt VanderBeek (right) check the cheese curds on a draining table. This table separates the cheese curd from the condensed whey, a form of sugar.

North Town, as the settlement to the north was called, concentrated on wheat, but as the yields declined the elevators struggled, according to a history of the first 125 years of Paynesville by the Paynesville Historical Society. The new creamery accommodated farmers switching to dairy.

In the 100 years since the creamery's construction, dairy has become a primary industry in the area. Stearns County ranks first in the state and in the top five nationally in dairy production.

Though the creamery started by handling eggs, it soon was one of the first plants to make process butter and was once a leading ice cream producer in the state.

The Associated Milk Producers Incorporated plant in Paynesville today still contains parts of that 1901 creamery and still tries to add value to milk by processing it into dairy products. Now the plant takes 1.7 million pounds of milk, every day of the year, and produces 165,000 pounds of cheese daily, roughly a ten percent yield of cheese.

AMPI since 1969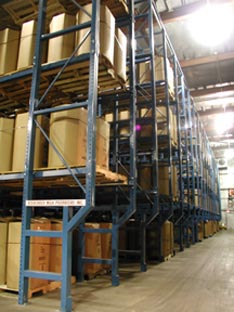 Though the plant was a leading facility in the state in the early half of the century, it fell on hard times in the 1950s and 1960s, and Five Star Dairyland made a difficult decision in 1964 to acquire the facility, according to Ken Gniffke, who came to Paynesville in that year to manage the plant and stayed as the plant manager for 35 years.

The AMPI plant in Paynesville uses 1.7 million pounds of milk a day to make 165,000 pounds of cheese.

At that time, the plant churned a little butter, but concentrated on making nonfat dry milk. Over the next decade, however, the plant would change dramatically.

In those days, every town had a creamery because transportation, then done in milk cans, was limited. With the advent of bulk tanks - on the farm and on trucks - shipping the milk farther for processing became a possibility.

By 1970, the plant had merged with a dozen creameries from Sedan and Kensington to Foley and Pierz, said Gniffke. The increased volume of milk allowed the plant to be more efficient and profitable.

"He really worked to get these plants merged into AMPI," said Matt Quade, who currently manages the Paynesville and Glencoe plants. "If it weren't for Ken and his staff, we wouldn't have a plant today."

Five Star Dairyland also voted to join AMPI in 1969. At that time, the cooperative featured midwestern and southern dairy farmers and was based out of San Antonio, Texas. For years, the local plant was in the North Central Region of AMPI, but in the last decade the organization split.

Now AMPI is based exclusively in the midwest, with 14 plants in Iowa, Minnesota, South Dakota, and Wisconsin. With corporate offices in New Ulm, AMPI processes 5.3 billion pounds of milk per year (more than ten percent of that in Paynesville) and has $1 billion in sales.

The real winners are the dairy farmers who belong to the cooperative that owns AMPI, said Quade and Gniffke. "The business is designed to maximize milk's value by processing and packaging dairy products," explained Quade.

Members earn stock through their milk sales to AMPI, and any operating margins are returned to the farmers, said Gniffke. "In the long run, the plant has been good for the dairy farmer and the community," he added. "The community has been good for it. It works both ways." "You get money in a farmer's hands, and it will circulate," he explained.

Becoming a cheese plant


In order to maximize milk's value, the local plant was switched to cheese manufacturing around 1974. "Cheese was worth much more than butter or nonfat dry milk," explained Gniffke, "so you could turn 100 pounds of milk into more money."

Cheese is a profitable dairy commodity again, but it did face a tough two-year stretch when the price dropped below $1 per pound. This drop in cheese prices brought down the basic milk prices to $10 per hundredweight, where it stayed for over a year. Now, though, cheese prices have rebounded to $1.65 a pound, bringing milk prices up to $15.

"We've rebounded nicely," said Quade. "It's only been in the last few months."

After the plant was remodeled to produce cheese in 1974, it could take more milk per day, around 1.4 million pounds then and 1.7 million pounds now. With the mergers, milk started to be brought to Paynesville from further and further away. The plant today gets milk from as far away as Blackduck, Pelican Rapids, and Hinckley.

In addition to its 62 employees, the local plant has 15 contract haulers to pick up and deliver the milk.

The plant has picked up 115 farmers and 250,000 pounds of milk a day since the sale of the Kraft plant in Melrose was announced last winter.

The bulk of its milk comes from Stearns Country. Of the 800 producers who sell milk to the plant, at least a third are located in Stearns County. The opportunity to show off the heart of Minnesota's dairy production was a reason why AMPI was picked to host the WCCO broadcast and why the local AMPI staff chose the Duane and Irene Burg farm south of St. Martin.

Making cheese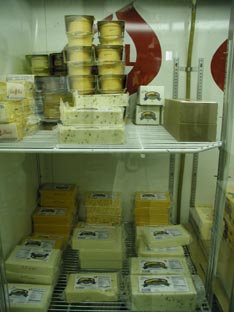 Upon arrival, milk is tested for antibiotics and pasteurized by boiling it for 16 seconds at 162.5 degrees.

The production run at the plant starts at 3 a.m. Most milk brought in during the day will be processed that same day, but the latest arriving loads will be held over to start with the next day. "The fresher the milk," said Quade, "the better the cheese."

Sixty thousand pounds of milk is condensed to fit in a 45,000-pound vat. The milk is cooked, made to coagulate, and a desirable bacteria is added to start the chemical reaction that produces the cheese. The curds form softly at first, and then get firmer. The liquid, a sugary milk called whey, is separated and collected.

To stop the reaction, salt is added to the cheese at the optimum time, which deactivates the bacteria culture. The cheese curds are then poured into a 500-pound barrel or a 640-pound block to cure and harden for up to a week.

At any given time, the warehouse at the AMPI plant has more than a million pounds of cheese. Every day, four 40,000-pound truckloads of cheese are shipped out from the Paynesville plant for further processing.

AMPI has its own label, State Brand, but sells most of its cheese to other companies who then resell the cheese under their private labels. "More than likely," said Quade, "people have bought our cheese and didn't even know it. It's our cheese; only it has a different label."

The sugary whey is sold to candy companies (for use in things like candy bars), to confectionaries (for use in frostings and cakes), and to food processors (for use in products like macaroni and cheese).

The production run at AMPI lasts 20 hours, with four hours for clean-up before the next day starts.
---
Contact the author at paypress@lkdllink.net • Return to News Page
Home | Marketplace | Community
---