(Editor's Note: The Press is featuring a half dozen staff members at the Paynesville Area Schools who are retiring this spring. This week, we profile retiring middle school teacher Kathy Olmscheid and retiring building and grounds supervisor Lew Storkamp.)
Kathy Olmscheid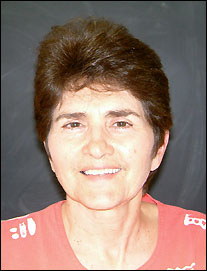 Kathy Olmscheid sees herself as one teacher among many in the course of a student's career.
"A student in school is exposed to a lot of teachers. We all work at capturing their interest, and it may or may not be the right moment for a student to learn a concept," she said.
She recalls when a student, who was revising a rough draft of a paper, made her aware of that fact when he said to her: "Many's the teacher that's tried to teach me this."
One of Olmscheid's favorite things about her job is when she tells her students that reading time is over and they ask for more time because they are at a good part of their book. She says it is rewarding to see her students make progress as they grow and learn during their three years together.
Kathy Olmscheid is retiring from Paynesville Area Middle School after 24 years as a special education teacher.
"It's exciting when they pass that eighth grade reading test after we've worked on it," said Olmscheid, a special education teacher in the middle school for the past 24 years.
"Ultimately, our goal in special ed is to get the student to be independent, and in some cases that happens where they no longer need the program by the time they get to high school."
On the flip side, Olmscheid says there are now a lot less classes for kids who are either not academically inclined or are not college-bound.
In her time in Paynesville, Olmscheid says she has seen an increase in state and federal regulations, and a decrease in state and federal funding. "Twenty-five years ago some of these programs didn't exist. Now they're mandated but not funded," said Olmscheid. "It's sad to see what the state is doing to funding to schools."
Although Olmscheid won't miss the increasing paperwork, she says she will miss the kids and the staff. However, she does still bump into past students from time to time. "It's amazing to see people 15 years down the road, and somebody is a policeman, and another is a deejay at a radio station, and you never would have expected any of that in sixth grade."
Olmscheid may not entirely be leaving the classroom behind either. She thinks she may return to substitute teach once she retires, as she did when her kids were little.
Olmscheid's connection to Paynesville lies in her hometown of St. Martin. She attended college at St. Cloud State and then taught at a private school in Edina for two years and in Richmond for one year. She took a break from teaching while her children were young, and when her husband Rich bought his business they moved to Paynesville.
Once here, Olmscheid became interested in special education after meeting teacher Lorraine Skrypek. "Lorraine was a mentor, and I learned a lot more from her than I did from any college class," said Olmscheid.
She took a course in special education before returning to teach at the middle school in 1978, where she has taught for the last 24 years.
Olmscheid says her main reason for retiring is so that she can spend more time with her husband, who also retired recently. The couple plans to do some traveling, fishing, enjoying the lake, and being free in their retirement.

Lew Storkamp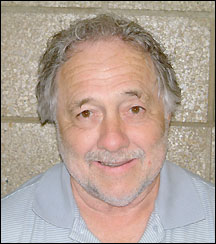 For all the work Lew Storkamp does with numbers, he says that the real bottom line of everything is the kids. "I don't care what it is, if it's the building maintenance, or the teachers, or the food service, or the administrators. We all have different things to do, but it all centers back to one point: the students," said Storkamp. "If it wasn't for the kids being here, we wouldn't be here."
Storkamp's first involvement with Paynesville schools began when he was a student himself. "It's nice being able to go to school here for 12 years, and then come back and work and retire here," said Storkamp. "I had no intentions of that, but it worked out."
Lew Storkamp, a PHS graduate himself, is retiring as building and grounds supervisor for Paynesville Area Schools after 25 years of work in the local school district.
Storkamp worked as a supervisor at the distribution center for Gamble's Hardware Store in Minneapolis for 17 years, until the plant closed down and 300 people, including Lew, were out of work. He came back to Paynesville with plans to work nights for about six months while looking for another job.
"That was 25 years ago," chuckled Storkamp. He has since spent 10 years as groundskeeper and 15 years as buildings and grounds supervisor at the local schools.
Over the years, he's seen a lot of changes. He thinks the accomplishments since superintendent Howard Caldwell has been here have been the most rewarding, among them being the construction of the high school auditorium, the middle school addition, and the construction of the district office.
"After going here with just a K-12 center section building, it's a little more personal to me because I've lived here all my life to see the changes," he said.
Storkamp enjoys the challenge of getting contracts and service agreements done on time while keeping a balanced budget. "I like figures. I love math. And it's important to stay within our means so the student can have a good education, because I had that when I was here," said Storkamp.
Although Storkamp has gone without a job for only two days in the last 42 years, he still says he looks forward to Mondays. "I can't imagine working at a job where you dread going to work Monday morning. I'm fortunate to have good people to work for," he said.
The first time Storkamp paid Social Security he was 11 years old, after he earned his first paycheck from Schwarz's Drug Store in downtown Paynesville. But now he feels it's just time to retire.
In his retirement, Storkamp plans to spend more time with his family. "My wife and I like to travel, so I'll spend more time with her. And I've got 19 grandchildren, two great-grandchildren, and two more on the way," said Storkamp proudly.
Storkamp also has a lot of work to do in his woodworking shop, and he plans to spend a lot more time hunting and fishing.
Even with all his retirement plans, Storkamp says he'll miss the nice people he's met from his job. "We've got an awful good administration here, and I'll miss my staff, too; there's no doubt about it," said Storkamp. "But that's just part of it, and you gotta move on."
Storkamp is unsure if he will work again. "At this point, I'll take some time off, and then think about working," he said. "I've never sat around," he added.
---
Contact the author at editor@paynesvillepress.com • Return to News Menu
Home | Marketplace | Community
---