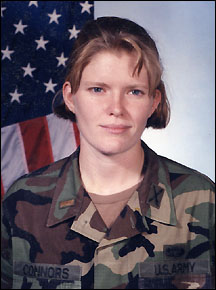 Most women dream of long honeymoons in exotic locations after their weddings, but Molly Conners' trip to the Middle East - without her new husband - is no honeymoon.

Captain Conners, an Eden Lake Township native and 1993 graduate of Eden Valley-Watkins High School, is a supply officer for the Army's Fourth Infantry Division. A heavy armor division, the unit's mission is to conduct security operations in Iraq. The Fourth Infantry Division left Texas for the Middle East in March.

Molly's dad, P.J. Conners, saw her off and was there when his daughter was issued a rifle and a flak vest. It was then that he fully realized that his daughter was going to war.

Because she left with little notice, neither her husband, who is stationed in Puerto Rico, nor her mother Ann, who works in Paynesville, could be there. According to P.J., more than a few tears were shed when he saw his daughter off.

"The hardest part was leaving," said Ann. "Once she got there, Molly was able to concentrate on doing her work."

Currently, the Fourth Infantry is setting up at an airbase in Tikrit, Iraq.

Molly isn't on the front lines, but none of the soldiers are spared the violence that still flares up in the area even though major combat operations have been over since early May. According to her letters, pockets of resistance were still everywhere in mid-May and very few areas were truly secure. She wrote that a soldier from her camp had been shot by sniper fire, but she reports only seeing tracer fire in the distance since arriving at the camp.

"There are lots of explosions every day now," she wrote in mid-May. "But the engineers are blowing up leftover stuff that hasn't exploded. Every once and a while, though, there is one that is off-schedule and we all go running for our flak vests!"

This is an improvement over her early days in Iraq when she wore protective clothing - helmet and flak vest - and carried a weapon at all times. Now she only needs a helmet and a weapon when she is in the camp. Outside the camp, she needs full combat gear, she wrote.

This is not what Molly's parents had imagined for their daughter. P.J. was only mildly surprised when his daughter, who was still in high school, announced that she was accepting a ROTC scholarship for college. Molly never backed down from a challenge, he said.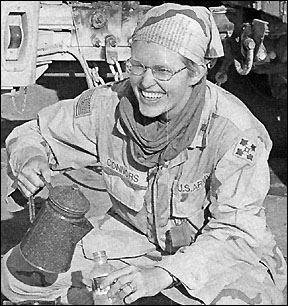 For instance, while she was in college at South Dakota State University in Brookings, Molly made two bicycle trips of over 1,000 miles each and went through grueling airborne training with Army Rangers at Fort Benning, Ga. Going to war is another challenge P.J. believes his daughter will rise to.
Since she left for the Middle East, Molly has kept in close touch with her family through letters and e-mails. Her letters are long and give her family details about her living conditions, while remaining positive.
At the end of her first month in Iraq, Molly didn't know what her unit's mission was, but she knew what her own mission was. If the unit needs anything - from toothpicks to tanks - its her job to find it, according to P.J. In fact, she wrote of spending many of her first days in Kuwait walking around a huge port looking for the unit's trucks and other equipment that had been shipped to Kuwait ahead of the unit.
Captain Molly Connors is a supply officer for the Army's Fourth Infantry Division. Currently, the unit is based at a former Iraqi airbase in Tikrit.
Getting food for her unit has been challenging. "We're not starving by any means," she wrote, "but the system is slower than it should be and not very accurate." Sometimes a shipment comes in with less food than she anticipated.
Early on, Molly wrote that she was in a nice camp where there was running water and hot showers, but as they moved into Iraq she was reduced to bathing with baby wipes, hand sanitizer, and buckets of water.
She noted that the post store at one of the camps she visited didn't have Neosporin, but it carried four different types of baby wipes as well as several types of CD and DVD players.
"Not having a shower must be killing her," laughed Ann. "When Molly was a teenager, the family took a camping trip that included an overnight stay at a campsite without showers, and she didn't like that at all."
Indeed, nearly every correspondence her family has received has a mention of heat, dirt, and sweat.
Her unit spent much of the first month on the move, making its way to Iraq from Kuwait, spending time at various camps along the way. Upon reaching its destination in Tikrit, the unit set up camp at a former airbase. Before moving into the buildings, soldiers slept anywhere they could, she wrote, including on truck hoods, outside on cots, and in the backs of trucks. Molly slept on a bed of plywood she built in the back of a truck until the officers converted a building into sleeping quarters. Because Tikrit is Saddam Hussein's birthplace, Molly feared the locals would be hostile, making it a dangerous place. But after being there, Molly has found the people to be quite friendly. She wrote to her husband that the people shout "good morning" regardless of the time of day. Hungry children from the town come near her camp, said Gilbert, and Molly shares her own food with them.
Molly was responsible for getting cleaning supplies from local vendors in Tikrit. She was given $15,000 in cash to buy enough mops, brooms, buckets, and other supplies for the whole unit of over 18,000 men and women. At first, she wrote to her mother, she was nervous about being an American military woman on the streets of a town that could hold hostilities against Americans, but the people turned out to be very nice. After spending all of her money, Molly estimated she bought $400 worth of supplies if she had bought them at home. The Iraqis, said Ann, had already learned to price gouge.
On Monday, May 12, Molly e-mailed her parents that the unit had finished settling into the camp in Tikrit. "We are trying to get electricity working and running water in my little camp," she wrote. "The biggest problem is that there are so many U.S. bullet holes in the walls of the buildings, which messed with the wiring. The engineers had water running to a water tower a few days ago. They had the tower filled up and then the next day it was empty but they had no idea where the water went."
While nobody could find the leak, Ann figured it came from a bullet hole. "It's funny that some of the hardships our troops are facing now were brought on by our own actions," said Ann.
P.J. was in the Army during the Vietnam War. "When I was in the Army it was mostly single men," he said. "When I saw Molly off, I was amazed at the number of women with children that were standing in line for supplies. One woman had a baby in one arm and an M-16 in the other."
According to her husband, Molly was supposed to be out of the Army by now. Not wanting to be like the women her father saw, she hoped to find a civilian job and start a family. Those plans were interrupted by her unit's deployment and the military's moratorium on discharges.
Although P.J. is unhappy that his daughter is in a conflict that neither he nor his wife can fully support, he is glad that Molly and the rest of the men and women in the war probably won't have the kind of homecoming Vietnam vets received.
When he came home from Thailand, where he served during that war, his father, his brother, his best friend, and his best friend's father were the only people to meet him at the airport. He believes his daughter and the rest of the men and women fighting in the Middle East deserve better. He is glad that even those who can't support the war can still support the troops.
---
Contact the author at editor@paynesvillepress.com • Return to News Menu
Home | Marketplace | Community
---