Water tower back on St. Martin skyline
This article submitted by Linda Stelling on 6/2/98.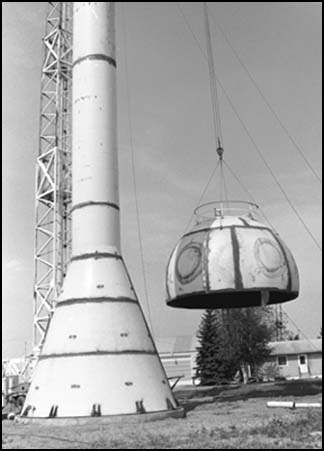 It has been about 50 years since St. Martin had a water tower on its skyline. Last week a new water tower was raised, creating quite an attraction for area residents.

With low water pressure, the St. Martin City Council applied for grant money to help finance a new water tower. At present, St. Martin residents have only a 1,000 gallon pressurized tank system which cannot handle recent business expansions.

Last week, over a two-day period, a 75,000 gallon water tower went up above the cityís skyline. The water tower stands about 140 feet above the ground and measures 27 feet in diameter.

Maguire Iron, Inc., water tower specialists from Sioux Falls, S.D., raised the tower next to the St. Martin Fire Department.

According to Joe Kalthoff, St. Martin, the base was installed in February and the tower pieces were delivered before road restrictions went into effect.

The crew from Maguire welded the pieces together inside and out, double checking for weak spots before putting the various pieces together. A large crane hoisted the pieces into place in sections, first the stem, then the lower bowl of the water tower, then the top half of the bowl.

The job supervisor said it can take anywhere from six to eight weeks to complete a water tower, depending on size. ďWatching a water tower go up is a once in a life time experience,Ē he added. ďWith proper maintenance, a water tower can last forever.Ē

Kalthoff said the water tower project has been in the planning two to three years.

The original 5,000 gallon wooden water tower was removed in 1940. It stood behind the former city hall site. ďIt had stood empty many years before it was taken down,Ē Kalthoff said. ďIt was strictly used for emergency fire protection.Ē

The city had a deadline of Oct. 1 to have the new water tower in operation.